A commercial venture owned by John Hanna and Joe Clapp, Hanover, Massachusetts-based Ultrasound Production Studios has installed an Audient ASP8024 Heritage Edition analogue mixing console.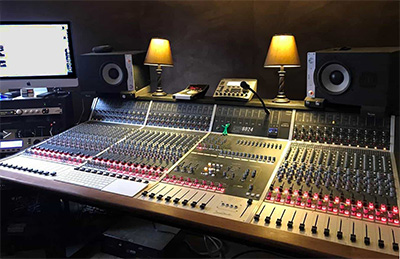 After having used or owned a lot of different consoles including models from API, and MCI Hanna looked to Britain for his mixing – adding a Trident Londoner and Trident 80B to his tally before moving on to Soundcraft. 'Having owned several Soundcraft Sapphyres, I followed the designers of that console which led me straight to Audient,' he explains.
Taking pride of place at the heart of the Massachusetts studio, the Heritage replaced an ASP8024, which until then the studio very happy with. 'The Heritage has every upgrade I could ever want. It was like the designers read my mind. It was scary – I thought only my wife did that,' Hanna says.
'I love the dimensions and the layout,' he continues. 'My console is 36 channels yet I don't have to take a train to get from channel one to 36. Big boards are cool looking, but when you are getting up and down to go from one end to the other, you don't realise it, but you start compromising and only work in one area of the console. I feel like I am on a big board with this console, yet everything is right in front of me and always in reach.
'I love the layout and signal flow; I like the inline design and really love the colour scheme. The two colours really make things fast and easy. I love 24 buses – it's a throwback to analogue, which to me is classic, but more importantly to me it's an additional effect send if needed. It also has splittable EQ. And I like the Audient EQ – it is so friggin' flexible – I could live with the board EQ alone without a problem.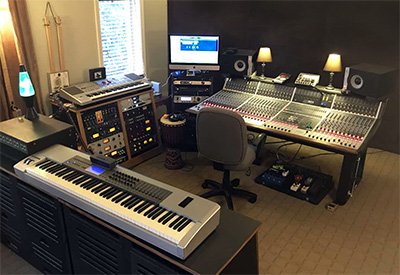 The console keeps the company of Antelope Audio converters, Pro Tools 12 and Logic Pro X as well as an extensive selection of outboard compressors, mic preamps, EQs and effects. For monitoring, there are stereo Eve Audio SC 208 and Yamaha NS10 speakers.
An attorney by day, Hanna leaves the day-to-day running of the studio to Clapp. 'Joe handles all the sessions and we have a few independent engineers,' he explains. An entrepreneur, audio engineer and musician himself, he also records his own material there.
'At my age, it's pure self-enjoyment. I still record and get into the gear. The Audient is inspirational – no limitations, no restraints – just great clarity and honesty in sound, combined with tremendous ease and flexibility that inspires me when I work. That's how I make a great product.'
He admits that the arrival of the Heritage desk has even sparked new ideas for the studio: 'Everyone is looking for that something that makes them better,' he enthuses.
Most recently, he's offered the space to a cable TV company that is struggling with streaming and recording live band performances, with an audience in the soundstage room. 'Using the Audient we can do everything from one console. I can have an independent house mix, monitor mix, video mix, radio mix, recording mix and so on. You tell me one other console in the industry that can do that with one person all in arm's reach. It's this console that made it that easy. Flexible, yet complex, yet simple.'
'This is only the second console I ever bought brand new,' Hanna adds. 'I love this console so much that I have told Paul Savasta at Odyssey Pro Sound [the local dealer that supplied the Audient Heritage] to get ready for a second order, as I plan to install it in my house.'