After producing the US Open Squash Championships in Philadelphia for seven years, IMS Technology Services switched its preference for sound to Martin Audio CDD-Live speakers for the 2017 event.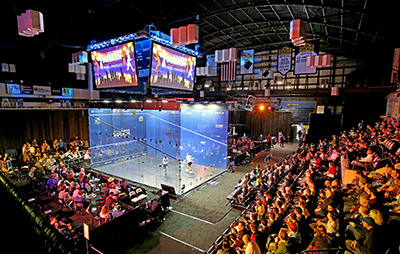 'We have definitely upgraded the speaker coverage with the CDD-Live 12s and 8s,' reports IMS Director of Audio, Chris Leonard. 'They had a major impact on the environment with their low-end extension and consistent wide coverage. There's no good place to put subs at this event, so having a speaker with the low-end power of the CDD-Live series really added excitement to the audio quality and coverage.'
The Championships take place at Drexel University's Daskalakis Athletic Center with a custom ASB glass squash court placed in the middle of the gymnasium with the audience of just over 1,000 surrounding the court on all sides. IMS, a nationwide company that does full scale production for corporate, higher education and performing arts, along with corporate A/V installs, has produced this one-of-a-kind event since it moved to their home base in Philadelphia.
'There's a referee on a headset mic in the centre of the gym, just outside the glass court,' Leonard continues. 'He has to be live the whole time and sufficiently loud to be clearly heard by the players and everyone in the place, because he's calling the score and in constant communication with the players.
'Then they have an MC that does the player introductions, lots of live music stings, and the need to maintain a pumped-up environment for the presentation. So, in between match play, there's plenty of high-energy music and lots of lights flashing.'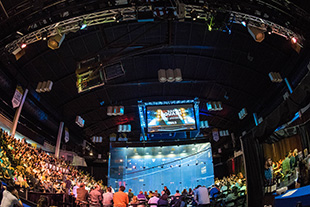 Budget and logistic limits eliminate options such as line arrays: 'But the ability to maximise the return on investment with CDD-Live was very helpful. What's nice about these speakers is the wide 110-degree coverage, which only required two per side, so the width of the coverage across the space and the low-end extension really gave the show additional excitement and a feel they hadn't experienced at the US Open before.'
The deployment comprised four CDD-Live 12s, with one flown in each corner from a special truss, and two CDD-Live 8s flown over a VIP bar area for additional reinforcement because it was located outside of the main area of coverage. An additional CDD-Live 8 was used to assist Chris in monitoring the event from backstage.
'The Dante networking is great too,' Leonard adds. 'I could run the signal in stereo to give it an extra-wide feel. It allowed me to easily distribute signals across the venue with enhanced audio quality and greater flexibility.
'There's no doubt CDD-Live made a big difference because of the coverage and clarity. In the past, we've had trouble getting the ref's mic loud and clean enough across the whole venue but I could do it now across the whole space without any feedback and with great clarity. When I was playing the music and stings, the US Open Tournament Director Graham Bassett noticed the low-end energy in the space and mentioned to us that the audio sounded noticeably better than in the past.'