Attracting around 1,000 convened at the Dürlin Budapest Event & Performance Space in Hungary to celebrate Bladerunnaz, the traditional opening of the Autumn/Winter season. To ensure that one of the country's premier Drum & Bass events made the required impact on the dancefloor, service company (and Martin Audio partner) BG Event fielded its MLA Compact PA system.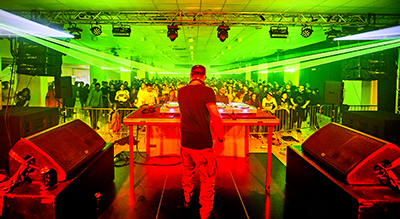 BG Event has a history with Bladerunnaz dating back to the mid 1990s, when BG's owner started to support the newly formed promoter's gigs for Goldie, Loxy, Ink, Kemal and DJ Fresh. According to BG Event's Balázs Szentiványi, the promoters opted for Martin Audio having experienced MLA Compact on the Drum & Bass stage at the recent Balaton Sound festival, which it also promotes.
A collective of Drum & Bass DJs, BG Event promotes regular club events during the winter season and also throws open-air parties and festivals such as Balaton during the summer time.
For Bladerunnaz, the system design was in the capable hands of BG's long serving system engineer, Viktor Meszaros.'We knew that MLA Compact, accompanied by the mighty MLX subs, would unquestionably provide the ultimate gear for such a bass-heavy event,' Balazs says. 'Due to MLA's sonic capabilities over the full spectrum it was an ideal choice. We were able to use the special features of the MLA system, the SPL optimisation, leakage prevention and Hard Avoid.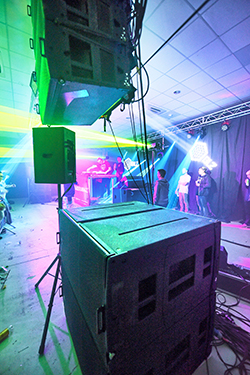 'There is no acoustic damping in the room so that we had to avoid slapback from the rear, using the unique control – as this is something that bothers artists and crowd alike.'
This provided the setting for headliners Ed Rush, Phace, DLR, The Sect and Akov. And, as there was no SPL restriction in the venue, they were able to reach a maximum SPL of around 105dB at the centre of the dancefloor. The MLA Compact arrays were rigged in a traditional LR formation, four elements per side, with the MLX subwoofers in a conventional stack, two pieces on each flank. The subs were driven at a constant 80-to-90 per cent capacity to reflect the sub-heavy genre of the music.
The main PA was supported by Martin Audio CDD-LIVE 12 for close fill, and a pair of LE1500 for DJ monitoring, with two WS218X for LF extension.
'The promoters couldn't have been happier,' Balazs reports. 'The subs were overkill and the MLA Compact brought detailed mids and highs so that the night was marked with a coherent sound. 'As a result of this success, I can see more events of this nature coming along in the future.'
More: www.martin-audio.com