Following the refurbishment of Southampton Solent University's Studio 1 with a VDC cable infrastructure in 2016, two further facilities have been redeveloped ahead of the 2017/2018 academic year.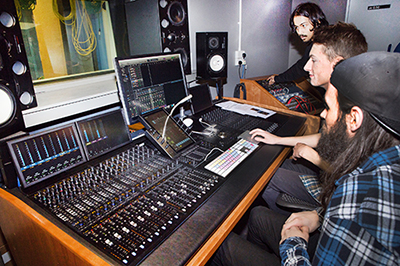 The university's TV, Film & Media Technology department boasts a number of professional-standard facilities including 4K-ready broadcast studios, radio suites and newsrooms, with investment in similarly high-quality facilities for the Music & Performance students made in 2016. The department has nine rooms in total, five full studios and four smaller workstations which can be used for mixing. While Studio 1 was upgraded in 2016, the remaining studios hadn't been touched for around ten years.
'I've been using VDC personally in my freelance work since the mid-1990s and I introduced them to the university when I joined in 2007,' says Technical Instructor Jon Wills. 'We've used Tourcat Ethernet cables in our outside broadcast equipment which we take out to festivals with the students each summer, so we know they offer a robust solution.'
VDC supplied three patchbays in Studio 1 with a custom wiring solution. 'It's wired as I asked them to, it's bespoke for me,' Wills explains. 'It all comes out to 25-way D-sub connectors and then, off-the-shelf from VDC, I purchased D-sub tails to connect all the equipment up. It just meant it was flexible for me.'
The centrepiece of the studio is a large-format Avid S6 M40 control surface, as the university is an Avid Learning Partner. 'We did have a big analogue desk in here but we wanted to move more into the box and give students the experience of working on a large-format control surface. We teach Pro Tools and Logic and we have other Avid control surfaces in the other studios though they're not large format. The patchbay gives students the ability to patch all sorts of equipment into their sessions and learn about using analogue equipment with Logic or Pro Tools, in a digital workspace.'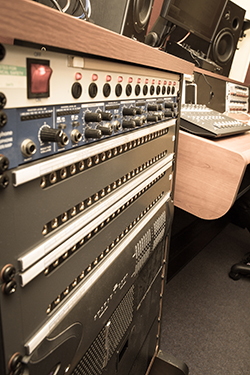 Southampton Solent turned to VDC this summer when a further two studios were upgraded. VDC again supplied all patchbays as well as a bespoke wiring solution. 'Working with the academic staff we decided what was going to go into these rooms and I knew we wanted VDC as part of that. The workmanship is excellent, I've always been very impressed. We've also had some custom cables made up by VDC on the video side and it always arrives looking really nice and robust and is completely reliable.'
Studio 2 is now being billed as the Neve Room as it features a Neve R6 Lunchbox with six units in it as well as a Portico Channel & Master Bus Processor. Studio 9, meanwhile, is set up as a smaller version of Studio 1 and is used by first year students. Patching wasn't available in this room before the summer refit, so students are now able to practice these skills at an earlier stage.
There is consistency across all three studios in terms of the furniture and the software suite. All rooms have Logic and Pro Tools along with McDSP, Sonnox and Native Instruments plug-ins. 'All of our nine rooms are identical in terms of what's on the computer so any student can take a session from any room and plug it in and it'll be exactly the same in the next room,' Wills says.
A key aim of the investment in all three studios was to enable students to use and get used to industry-standard equipment. 'The university was keen to invest in professional-grade equipment for the students; they leave here having used equipment that they could never afford to purchase themselves.' The summer upgrade also saw new drum kits, guitar amplifiers as well as desks, Distressors and preamps being purchased; the studios now feature kit from a whole host of high-end brands, including Dynaudio, Focusrite, Sennheiser and Avid.
'It's all about making sure students come out ready for work, so we make sure they know the basics, such as how to coil a cable, as well as how to operate some of the best kit in the industry,' adds Wills.
Another intention was to make the studios easier to use as the spaces are used for both the more creative BA courses as well as the technical BSc qualifications.
'Under guidance from the academic staff, the spaces have been designed to be more collaborative. We'll shortly be adding Korg synthesisers into Studios 1 and 9, which will then patch into the whole system so students will be able to make music in the control room enabling collaborative music creation.
'The studios are open until 11pm during term time but there are no staff around on an evening, which means no technical support, so students need to be able to support themselves, and with this set-up it's easier to get them to a point where they can do that.
With the addition of the patchbay, Studio 9 is slightly more complicated but it works without patching – it's all wired so if you do nothing you'll be able to record sound from the studio into the software – the patchbay simply expands what the students are able to do in the space.'
As with so many projects in the education sector, timeframe proved a challenge for the team at Southampton Solent, but, as Wills explains, VDC helped with this: 'One of the reasons I purchased pre-made cables from VDC was because I didn't have time to make those cables, so being able to purchase them off the shelf or have them made specifically for me by VDC with the confidence from my experience that they're going to work properly out of the box was very important. I didn't have any problems with any of the cables.'
Despite the deadline, the project was completed in time and feedback from students has been positive. 'Bearing in mind these studios had been how they were for the past ten years so some of the kit was looking a bit tired, the reactions from students returning after the summer has been extremely positive and the academic staff have been very complimentary about what we've done,' concludes Wills.
More: www.vdctrading.com