Following the departure of the long-serving Patrick Lau, Colin Quek has been appointed Director of APAC Sales for Martin Audio.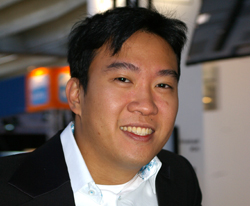 Quek joins from direct-weather loudspeaker specialist, One Systems, where he was One System Global Technical Sales Director, Asia-Pacific.
Based in Singapore, he has wide experience in the pro audio industry and previously worked with Loud Technologies from 2005-7. Now overseeing Martin Audio's sales activities in the APAC territories, his new role will place high emphasis on market development in a region that covers India, Japan, China and the Pacific Rim, including Australia and New Zealand.
'I have great regard for the work Patrick has done in building the Martin Audio brand, and for me it is a case of hitting the ground running,' he says. 'Under the APAC leadership of Davwinder Sheena, Loud Technologies' business in the region has become so successful that each brand component now needs dedicated teams to manage the business units, and I am relishing the challenge offered by Martin Audio.'
Quek is aware of the brand cachet he is inheriting and the company's product profile: 'During my term with EAW, I saw [Martin Audio] as a competitor before becoming part of the Loud Technologies stable. And in order to be effective, it was important to know my competitors nearly as intimately as I know my own brands.'
He says his immediate priority will be to galvanise the distribution network and ensure they have all the tools and support required: 'This is an exciting role and I look forward to the prospect of moulding changes to improve sales and relationships for both client and supplier.'
More: www.martin-audio.com