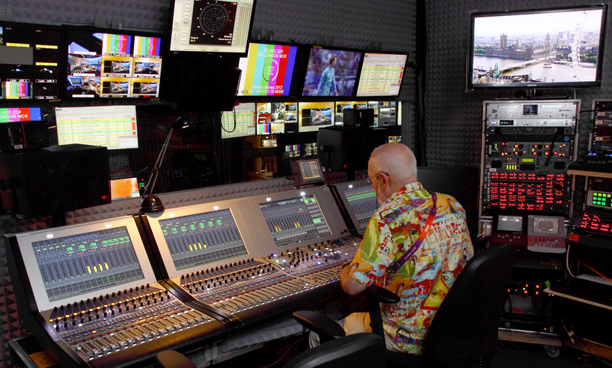 The Olympic Games' media coverage sees broadcasters from around the globe sourcing feeds to keep the world's television screens, radios and internet streams.
From the Opening ceremony and encompassing a wide range of sports, Lawo mc²56, mc²66, mc²90, crystal and sapphire consoles, plus Nova73 HD routing systems, along with Stagetec Nexus routers have been playing essential roles behind the scenes.
In the European broadcast community, Lawo systems are used by German public broadcasters ARD and ZDF, which both deliver from the control room in the IBC (International Broadcast Centre). Audio is mixed in ARD and ZDF's Mobile Production Unit on a mc²90 and a mc²56 and added to the broadcast output in the HD control room. A redundant Nova73 HD serves as the router. ARD Radio's equipment includes a mc²56 mixing console and three crystals.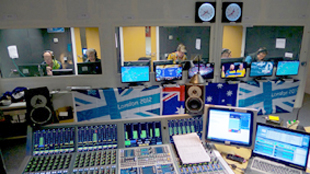 YLE, the Finnish broadcaster, and SVT, the Swedish national broadcaster, are also Lawo equipped, with a mc²66 MkII console, various sapphire radio and production consoles and a Nova73 HD. Sapphires and crystals are also used in the London control rooms of Estonian broadcaster ERR. Similarly, Austria's ORF is in London with mc²66 MkII mixing console.
Lawo systems are also helping to share the sports excitement throughout Asia, North America, and Australia. Asian customers with mc² consoles in their broadcast set-ups include Korea's KBS, as well as Australian Channel 9/Foxtel with various mc²66 and sapphire consoles. CTV from Canada is also using sapphires for parts of its sports coverage.
The majority of the OB vans in use at the venues for production of national and international feeds are equipped with Lawo mc²66 consoles.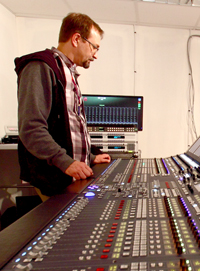 'As always with big sporting events, we are on site to support our customers in the best possible way,' Says Lawo CEO, Philipp Lawo. 'There are more than 50 Lawo consoles in the UK and customers from Europe, Asia, Australia, and North America are using Lawo technology as part of their broadcast operations. We feel tremendous pride knowing that our consoles have been in use over the past years in many of the most important and biggest international sports events.'
Stagetec systems are also in use across the Olympic sites – including Earl's Court for the volley ball, Wimbledon for the tennis and the IBC.
As well as the Olympic venues, Stagetec systems are a major component in the delivery of live coverage of the events from numerous international OB vehicles including those of the BBC, NDR, RAI and CCTV. In all, there are an estimated 70 Nexus frames, 15 Nexus Star routers and eight Stagetec consoles playing a part.
At the IBC Australian Broadcast Corp (ABC) has its own studio with three commentary booths equipped with Delec Oratis commentary terminals. Up to three commentators can use each terminal with a fourth microphone being employed by an interviewee. All the signals from the host broadcaster and the commentators are fed into a Stagetec Auratus console, which uses Stagetec's Nexus routing system before being distributed.
Audio monitoring
Located in the Olympic Park at the International Broadcast Centre, the event's three main sound galleries were the mixing point for virtually all of the BBC's sport TV output during the tournament.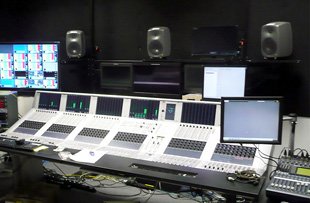 For monitoring of audio, BBC used Genelec's 5.1 DSP loudspeaker systems for BBC channels 1, 2 and 3, which were broadcasting a combination of 5.1, stereo, HD, SD and 3D transmissions.
BBC Studios and Post Production Sound Supervisor Peter Bridges explains that DSP was used to line up the speakers in a challenging monitoring environment: 'There is often compromise in setting up temporary control rooms, but soon after the Genelecs were set up and aligned we were able to start mixing.'
The set-up in the three main rooms was based on a 5.1 system comprised of Genelec speakers as satellites with a matching sub-bass component, while a fourth room featured two full-range Genelec speakers.
'In temporary set-ups like these, we normally have to make the best with what is provided,' Bridges explains. 'HHB arranged a demo of the Genelecs and then aligned them onsite for us. Previously we've put together a speaker control and management system ourselves, which can be challenging, so it was essential that we had properly aligned systems for London 2012.'
Genelec DSP systems are built on the Genelec 8000 series technology with the addition of a digital networking system, onboard DSP and the powerful automated loudspeaker system calibration, AutoCal.
'The Genelec AutoCal feature is unique and enables the best possible loudspeaker reproduction in the most challenging of sound environments,' says HHB Sales Director, Martin O'Donnell. 'Peter and his team did a fantastic job on the Olympics – we are very pleased that the Genelecs performed so well and delivered when it counted.'
More: www.lawo.de
More: www.stagetec.de
More: www.genelec.com
More: www.hhb.co.uk