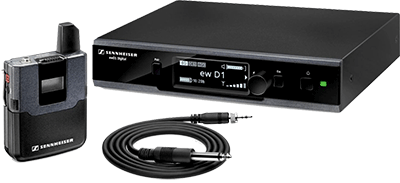 Sennheiser's evolution wireless D1 is a range of digital wireless microphone systems for vocals and instruments. Using the 2.4 GHz range (licence-free worldwide) the system enables transmitters and receivers automatically pair and select transmission frequencies, while multiple D1 systems automatically coordinate themselves.
With region-specific requirements catered for in respective country variants, the D1 receiver continually scans the RF environment, and will inaudibly and seamlessly hop to another frequency to operate around with Wi-Fi, Bluetooth and other 2.4GHz systems,
evolution wireless D1 employs aptX Live codec for audio quality and wide dynamics for vocals, speech and instruments over the entire audio frequency range. Overall latency is 3.9ms, which accommodates wireless monitors to be used. To ensure optimum levels, ew D1 automatically sets the correct microphone sensitivity.
The ew D1 menu control provides access to audio processes including a seven-band graphic equaliser, low-cut filter, automatic gain control and de-esser. The D1 vocal systems come with dynamic evolution microphone heads but can also be combined with the condenser capsules available as accessories.
Where local frequency regulations allow, ew D1 systems are fitted with adaptive transmission power, with up to 100mW of power. For this, the receiver continuously informs the transmitter about how much RF output power is actually needed for a stable signal. The transmitter adapts accordingly and transmits at the required power.
D1 transmitters can be powered by either standard batteries or rechargeable 'accupacks' that are available as accessories. These rechargeable lithium-ion packs recharge via USB or a docking charger and offer the additional advantage that the remaining battery life is indicated on the transmitter and receiver. Where required, the ew D1 system can be controlled by Apple or Android devices using a dedicated app.
evolution wireless D1 comes as both ready-to-use systems and can be tailored to specific applications by combining individual components.
More: www.sennheiser-d1.com