Sennheiser has released Wireless Systems Manager v4.1, which includes a function that protects any selected frequency settings before the software calculates a new plan.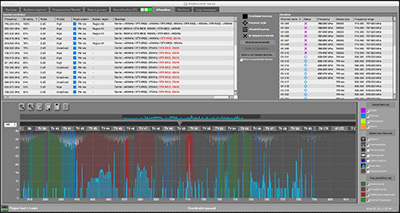 'The Fix Frequency function saves you a lot of work,' explains Tobias von Allwörden, Product Manager for professional wireless microphones at Sennheiser. 'When you need to recalculate a frequency set-up, simply select the devices that need to keep their assigned frequencies and the software will not touch these when it calculates a new frequency plan.'
Wireless Systems Manager 4.1 also includes further features that are designed to provide further reliability and assist operation in pressure situations. It now indicates the spacing between a microphone frequency and its neighbouring frequencies to the 'left' and the 'right', whether this is another carrier or an intermodulation product. This provides a better indication of how reliable a frequency is. If not all of microphone and monitoring channels can be accommodated within a given spectrum window, the software will go below the recommended spacing but indicate this by marking the frequency red.
Additionally, v4.1 allows an individual noise threshold to be set – ff the power of an interference source is below the selected threshold, the frequency it is on would still be good to use; if the interfering source is more powerful (above the threshold), its frequency will automatically be disregarded for the set-up.
'For example, if you know that the radio microphones at your event will only be used at very short distances from the receivers, you could put the threshold higher, recalculate the frequency set-up and thus win more usable frequencies,' says Von Allwörden.
Wireless Systems Manager 4.1 is available now for PC and Mac as a free download.