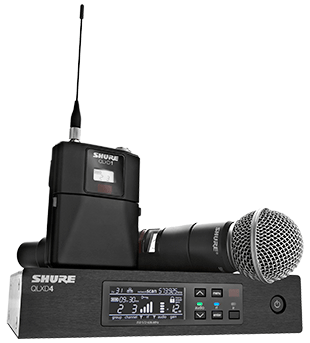 Shure's QLX-D Digital Wireless System features 24-bit audio, networked control and compatibility with the company's intelligent rechargeable battery technology.
Targetting live sound, corporate and government installations, academic institutions, houses of worship and hotels, the system uses automatic channel scanning and IR sync to find and assign an open frequency. AES-256 encryption comes standard and can be enabled for secure wireless transmission. The system's intelligent lithium-ion rechargeable power options can provide up to ten hours of continuous use and report remaining runtime in hours and minutes. QLX-D transmitters can also run on standard AA batteries for up to nine hours. QLX-D supports networking tools including Shure Wireless Workbench 6 control software, third-party control systems (AMX/Crestron), and iOS devices for control and monitoring with the ShurePlus Channels mobile app.
'This system packs in a lot of sophistication and delivers incredible wireless audio performance. It has outstanding spectrum efficiency and frequency bands covering up to 72 MHz, allowing QLX-D users to operate more channels on-air than with any other wireless system in its class,' says Shure Wireless Category Director, Erik Vaveris. 'QLX-D uses the same technology as our high end digital wireless systems in a more affordable package with a streamlined feature set.'
The QLX-D line will be available in August 2014 in various bodypack and handheld configurations.
More: www.shure.com