The Revolabs Executive Elite four- and eight-channel wireless microphone systems offer distributed architecture, increased density, enhanced integration with room control systems and cloud-based management capabilities to boardroom and conference room settings.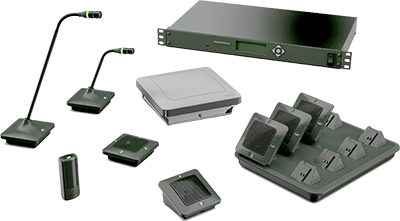 With AVB, analogue and USB audio output capabilities, the system is made secure by AES-256 encryption using dynamic key updates every three minutes. All-new distributed architecture allows the solution's remote antenna receiver and base units to connect via a standard Cat6 cable with power over Ethernet (PoE) support – allowing the remote antenna receiver to be placed in the same room as wireless microphones to improve wireless connectivity and simplify set-ups.
'Executive Elite is completely redefining the wireless microphone experience in large-scale deployments,' claims Revolabs COO, Marc Cremer. 'With expanded flexibility, incredible audio quality, and an elegant microphone design, the new solution solves a number of traditional issues including the need for bulletproof security and simpler microphone system scalability.'
The system also introduces gooseneck microphones to the omnidirectional and directional tabletop series, wearable microphones, and XLR/mini-XLR adapters. Using the latest battery technology and power-saving features, the microphones allow up to 20 hours of talk time and 72 standby hours, even with receivers up to 300 feet away.
To reach beyond the system's standard four or eight microphone channels, multiple Executive Elite receivers can be linked to use up to 44 (Americas) or 76 (rest-of-world) microphones in a single room. Administrators can monitor and control all microphones via USB, RS232, or Ethernet interfaces locally, or use a new cloud-based management environment for remote command and control capabilities including third-party managed installations.
More: www.revolabs.com