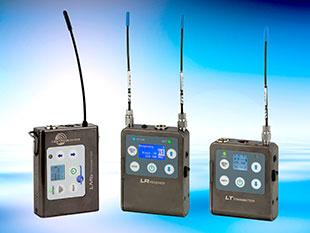 Lectrosonics has expanded its L Series Large Bandwidth line of wireless microphone systems with the launch of the Mb and LT beltpack transmitters, and LR miniature receiver.
The L Series units share a wide tuning range of three standard Lectrosonics blocks, or 67.5MHz-76.8MHz, depending on the specific frequency band, and employ Lectrosonics' Digital Hybrid Wireless technology for compander-free audio, along with interoperability with analogue systems.
The LMb is the latest in Lectrosonics' line of economical beltpack transmitters for applications including theatres, houses of worship, TV, ENG, video and film production. The LMb features an all-metal housing, wire belt clip, 50mW RF power, 25kHz or 100kHz tuning steps (providing up to 3,072 selectable frequencies) and a multi-function switch with menu-selectable modes for power, mute and talkback. A graphic LCD and membrane switch panel plus IR sync port assist set-up and operation. Power is from two AA batteries.
The LT transmitter features 25kHz or 100kHz tuning steps (up to 3,072 selectable frequencies), an integrated multi-function switch with menu-selectable modes for power, mute and talkback, and LCD and membrane switch panel plus IR sync. The LT additionally offers user-selectable RF transmission power of 50mW or 100mW. A detachable antenna allows the use of remotely mounted aerials. Also, the LT responds to remote commands from either the dedicated Lectrosonics RM remote unit or smartphone apps with this capability. Along with the standard Lectrosonics microphone input, a user-selectable 1MΩ input is for use with musical instruments, including guitars with passive pickups. The LT is housed in a newly designed machined aluminium housing featuring a super-hard EbNi 'ebony' conductive finish. Power is provided via two AA batteries. Applications for the LT transmitter include TV and film production, ENG, stage, musical instruments, camera hops and corporate A/V.
The ultra-compact LR receiver is designed to for use with DSLR, 4:3, small 4K and other compact HD cameras. Its wide tuning bandwidth with tracking front-end filters provides flexibility while avoiding the vulnerabilities of wider pass bands. Tuning steps are user selectable at 25kHz or 100kHz, giving up to 3,072 operating frequencies and compatibility modes enable the LR to operate with analogue transmitters while dual antenna diversity improves range and resistance to dropouts. The RF spectrum analyser and Lectrosonics' SmartTune allow easy discovery of clean frequencies on-site. A large, backlit LCD provides instant, clear information for set-up and status monitoring while operational. Detachable antennas allow for remote antenna mounting. The LT is housed in the latest machined aluminum shell with super-hard EbNi 'Ebony' conductive finish. The unit is powered with two AA batteries.
All three units are available in four different frequency ranges for worldwide use: A1 (470.100-537.575MHz), B1 (537.600-614.375MHz), C1 (614.400-691.175MHz) and D1 (691.200-767.975MHz). Overall system audio specifications include digital conversion at 24-bit/88.2kHz, a 40Hz-20kHz ±1 dB frequency response, 0.3 % THD+N in Digital Hybrid mode and >95dB S/N ratio. Audio output levels are adjustable from -50dBu to +5dBu in 5dB steps.
'These new wireless mic products meet a growing need for frequency flexibility in the face of ever more crowded and shrinking RF spectrum,' saysKarl Winkler, Lectrosonics' Director of Business Development. 'We've taken our hard-won experience in making robust, reliable and user-friendly wireless microphones along with plenty of user input and distilled this knowledge into these three products. The super-small LR in particular should be of interest to the growing population of digital filmmakers using smaller and smaller cameras.'
More: www.lectrosonics.com