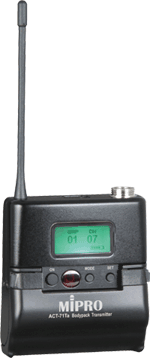 The Avlex Corporation has released two Mipro 7 Series wireless transmitters – the ACT-71Ta bodypack transmitter and the ACT-71Ha handheld transmitter – targetting applications, including field production, presentations, theatre and live performance.
The ACT-71Ta Miniature Wideband UHF Bodypack Transmitter features a small form factor for concealing the unit in wardrobe for theatrical, TV or film production. With a durable, lightweight, miniature magnesium alloy body, the transmitter is designed to withstand the abuse such equipment typically encounters. A backlit LCD display shows channel and battery status, while a selectable impedance and a sensitivity gain adjustment Add flexibility.
The ACT-71Ta provides a silent on/off switch with separate mute button and provision for the optional MJ-70 remote mute switch control – enabling the wearer to mute/unmute the transmitter even when it is underneath clothing. It also offers an end-user lockout function, programmable RF power and audio gain levels, mini-XLR connectivity with a threaded bayonet attachment, a detachable belt clip and support for Mipro's ACT function.
The ACT-71Ha Wideband UHF Handheld Microphone Transmitter features a lightweight magnesium alloy housing that is rugged and comfortable to hold. The unit's true condenser cardioid capsule provides high SPL, wide dynamic range,and fast transient response for spoken word and other vocal applications. Other features include high off axis rejection andhigh gain before feedback, while a multi-layered steel grille protects against impact and minimises plosives.
Like the ACT-71Ta, the ACT-71Ha features a silent on/off switch with a separate mute button for control over the unit during operation. Additional attributes include a backlit LCD for channel and battery status, an end-user lockout, programmable gain and RF output power, plus Mipro's ACT function for rapid and precise transmitter frequency set-up.
'The ACT-71Ta bodypack and ACT-71Ha handheld transmitter offer audio professionals exceptional performance and a wealth of features that enable these systems to be used in a wide range of applications,' says Fred Canning, National Sales Manager. 'They are the perfect complement to the Mipro ACT 7 Series wideband true diversity receiver systems. With their support for the full 72MHz frequency bandwidth of the 7 Series receivers, not only do these transmitters deliver maximum frequency flexibility and full feature sets with world-class audio quality, they provide the range and dropout-free performance that inspires confidence.'
The Mipro 7 Series wireless transmitters are shipping now, at ACT-71Ta bodypack transmitter US$549 and ACT-71Ha handheld transmitter: US$579.
More:
www.avlex.com