Cedar Audio has announced Cedar Cambridge Silent 1 hardware, Cedar Cambridge v12, and the new Unwrap and Declicke 3 modules.

The latest version of the Cedar Cambridge Series IV server systems, Cedar Cambridge Silent 1 is smaller, lighter and more convenient than previous systems. Further, it contains no moving parts (no rotating drives and no fans) so it makes no mechanical noise and can be placed in the quietest studios without creating a distraction. While the architecture of the Series IV remains sufficiently powerful for larger establishments performing batch processing and supporting multiple seats using the system's networking capabilities, the Silent 1 is optimised for single users, for whom it is as fast and productive as its larger sibling.
The most powerful incarnation of the Cedar audio restoration, noise reduction and speech enhancement system, Cedar Cambridge v12, is a significant update that comprises new developments including the silent hardware option, an upgrade to the existing Series IV hardware and a more productive process management environment using clearer graphics. In addition, there is a more affordable pricing structure. Cedar Cambridge v12 also dispenses with the 1U-high rackmount Timecode Automation Controller, which is no longer necessary for time code and automation duties. This simplifies set-up and reduces the amount of space needed for the system.
Cedar Cambridge v12 offers a revised process management system that combines all features found within the Process Manager and File Processing pages of previous versions. New features include time slipping of one track against another, allowing operators to line up recordings (of particular interest to users of the cross-channel adaptive filters). The introduction of file sequences allows users to open sequences of files in a chain that can be saved as a single file – useful for compiling material, this will also be of interest to forensic users whose original audio may have been saved as a string of short snippets.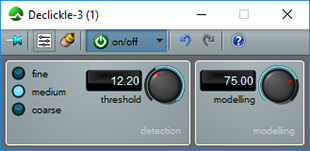 Wrapping is a form of clipping distortion where, instead of being flattened at the maximum and minimum amplitudes of the audio format used, samples are wrapped around and appear with the right shape but at the wrong amplitude. This form of distortion only occurs on digital recorders, but has been encountered on devices ranging from small, handheld units such as interview recorders through to the large, professional recorders used in film and broadcast. The audible consequence of wrapping is a loud and aggressive form of distortion that can obliterate the wanted signal and seemingly render a recording completely useless.
Unwrap is a unique new process that eliminates this problem and which can rescue previously unusable audio, completely eliminating the distortion.
Declickle 3 replaces and greatly improves upon the Declickle algorithm supplied on systems up to Cedar Cambridge v11. It offers improved detection and removal of clicks and crackle in the presence of musical transients, removing the unwanted sounds in a more transparent fashion than ever before. It looks identical with previous versions so there is no learning to be done; it simply offers better results.
When upgrading to Cedar Cambridge v12, Declickle 3 is provided as a free upgrade to owners of Declickle 2.
More: www.cedaraudio.com