Broadcast Solutions has announced hi, an 'intuitive and easy-to-use control layer for media appliances'.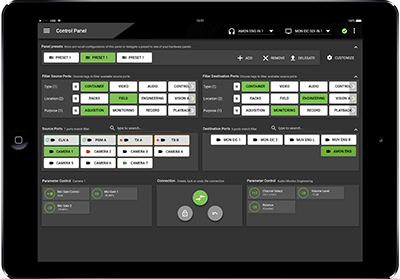 Drawing on more than 20 years' experience in system design, hi uses auto-discovery and zero-config technologies to reduce set-up and configuration time of broadcast and A/V media systems. Its user interface provides ready control and monitoring of complex infrastructures, and resembles those of common smart mobile devices.
While current networked and software-driven systems offer unprecedented flexibility for broadcast and media environments, they require users to define functionalities, workflows and control mechanisms for all new devices. These processes can take a lot of time and effort – and, in the worst case, need to be redefined each time a piece of the system has changed. Misconfigurations in an IP-based system have dramatic effects on the whole infrastructure with the result that the need to provide a fail-safe environment increases dramatically.
Broadcast Solutions' hi makes the configuration process smart and easy, detects new devices automatically and protects the user from false-configurations.
Built on decentralised software architecture, the hi system can run on almost any platform – a laptop, dedicated servers, server clusters, and also in data centres or on cloud services like AWS or Microsoft Azure. This architecture ensures uninterrupted availability, even in the event of hardware, power or protocol failures. Self-healing algorithms ensure that all parts of the system are up and running properly – even if they are distributed over different hardware platforms, or working from different locations.
Reliability and ease-of-use are the keys to successful interaction between the system and the operators, driving the main development focus to be on the user and how workflows can be simplified.