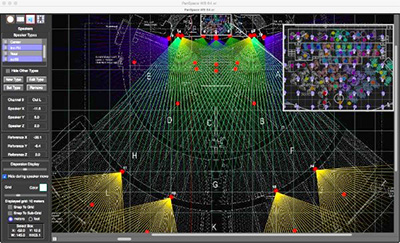 Out Board has unveiled TiMax 500S software for its TiMax SoundHub, featuring StageSpace spatial rendering tools which instantly auto-calculate multiple adaptive delay-matrix localisation objects using three-dimensional data imported from CAD files or entered directly.
Using 500S software, TiMax spatial objects can be rendered and adapted for a wide variety of stage, audience and sound system configurations, and fine-tuned in rehearsal by the operator. 'Experienced sound designers will tell you its the last millisecond or dB of adjustment that really make the spatialisation work,' Out Board maintains.
TiMax 500S integrated TimeLine and PanSpace resources allow quick and easy intensive programming and control of multilayered immersive soundscapes, with intuitive and versatile task-based workflows tailored for live, presentation and experiential spatial reinforcement and immersive audio. There are also new-look variable day/night skins optimised for outdoor, rehearsal and dark showtime conditions.
TiMax also benefits from the all-new TiMax FPGA DSP core, which promises 'unparalleled new creative tools for spatial reinforcement, 3D immersive audio and spatial acoustic enhancement'. Currently, the new core replicates all existing TiMax DSP resources but with extended delay-matrix memory and completely new ultra-smooth dynamic delay morphing algorithms for transparent real-time vocal and instrument localisation, as well as immersive layered moving effects. An FPGA upgrade option will be available to current TiMax SoundHub customers, future-proofing their existing investment into the long-term.
More: www.outboard.co.uk