Jünger Audio has extended the functionality of its D*AP8 Monitoring Audio Processor (MAP) – the only processor on the market that allows broadcasters to check pre-transmission Dolby Digital encoded audio.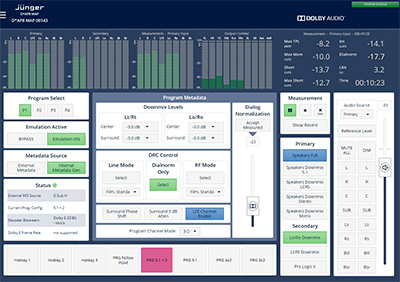 Firmware v3.0 provides real-time metadata emulation as standard, filling the gap left by Dolby when it discontinued its DP570 Multichannel Audio Tool in 2013. The new firmware also includes a simplified interface and improved alarm functionality so that broadcast engineers are alerted sooner if measurements fall outside permitted ranges.
MAP combines an audio monitor controller and loudness measurement device and is designed for quality checking surround (5.1) and/or stereo programmes. A built-in Dolby Metadata generator and an optional Dolby decoder allow users to decode Dolby-E, Dolby-D (AC-3) and Dolby Digital plus (E-AC-3). It can also be used for live monitoring and to ensure compliance with today's standards and regulations (ITU 1770-3, ATSC A/85 or EBU R128).
Aimed at providing comprehensive quality control and loudness monitoring for anyone working in a production or broadcast environment, MAP is the only Loudness processor on the market capable of offering real-time metadata emulation as standard. Its new user interface now combines loudness and dialnorm measurement, metadata emulation and setup and monitor control on one web page. It is optimized for mouse or touch operation and can also be used as a day-to-day interface, for example on a tablet computer. This significantly simplifies workflows, especially for those familiar with Dolby DP570/LM100 environments.
Firmware v3.0 also delivers improvements to MAP's alarm functionality as it now offers an independent alarm for the main measurement and additional alarms for all four log-ports, each of which monitor up to eight channels independently from the actual signal processing in the device. The alarms alert the operator when pre-set loudness thresholds are exceeded, and these signals can be delivered by SNMP and documented in the optional J*AM logging software. Alarms can also be used to trigger changes in signal processing, rerouting of channels or just switching notification lights in the facility.
The D*AP8 MAP Edition is now equipped with the latest drivers for Dolby's current codec option board Cat1100 running a Dolby D/D+ encoder. Due to reduced wholesale prices for the new encoder board, Jünger Audio is permanently lowering the retail prices for its DAP8 D/D+ encoder significantly. The discount is also valid with all other D*AP8 editions.
The new functionality is available to all D*AP8 MAP Edition users free of charge (Dolby metadata emulation is only available if a Dolby decoder is installed in the unit), and can be downloaded now the company website.
More: www.jungeraudio.com