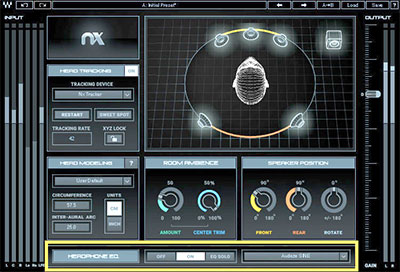 Waves Audio has announced a headphone EQ calibration feature for the Nx Virtual Mix Room plug-in, allowing users to select an EQ curve for specific headphone models.
Nx Virtual Mix Room is a virtual monitoring plug-in that recreates the three-dimensional acoustics of a professionally treated mix room on any set of headphones. This gives headphones the same depth and panoramic stereo image heard from speakers in a physical room.
Based on precision headphone measurement data provided by www.headphone.com, the Nx plug-in's new EQ calibration curves are designed to balance out any extreme features in the headphones' frequency response, correcting them toward a common frequency balance. This provides a more transparent starting point for monitoring and mixing.
The following headphone models are currently supported by Nx:
Audeze EL-8 (Closed-Back)
, Audeze iSine 20, 
Audeze Sine, 
Audio-Technica ATH-M50x
, AKG K-702
, Beyerdynamic DT-880 (250Ω), 
Beyerdynamic DT-990 (250Ω), 
Sennheiser HD-280 Pro
, Sennheiser HD-600
, Sennheiser HD-800, 
Shure SRH-440
 and Sony MDR-7506.
Using Nx Virtual Mix Room with EQ calibration, users can now mix and monitor on headphones with greater confidence than ever, experiencing precise, reliable high-end sound in the studio, at home or on the road.
More: www.waves.com