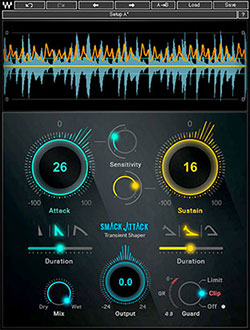 Waves Audio has released the Smack Attack transient shaper plug-in to 'add smack and bite' to drums, loops and percussive sounds. The plug-in offers control over the level, shape and duration of transients' attack and sustain.
Smack Attack can control the level, shape and duration of transients, giving tracks tightness and dynamics. Unlike traditional transient shapers, Smack Attack also gives pinpoint control over the transients' shape and duration, as well as offering standard attack and sustain level controls. A Sensitivity control allows selective transient shaping – processing all transients, only the loudest, or anything between.
Smack Attack also features a user-friendly GUI with real-time graphic waves display; a limiter/clipper for driving your sound to the limit; and a Wet/Dry mix control for parallel processing. Smack Attack is also Midi-control-assignable.
More: www.waves.com