Plugin Alliance partner Lindell Audio has released the 354E plug-in, a multiband model of the vintage Neve 2254ETM diode bridge compressor, replicating its distinctive behaviour and character in an AAX Native, AU, VST2 and VST3-compatible three-band M/S (Mid-Side) formats.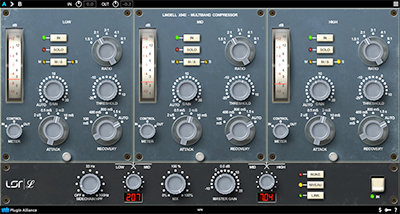 The 2254 mono compressor/limiter dates from1969, becoming a standard module in Neve 80 Series hard-wired analogue consoles. Its input stage is based around an input transformer followed by a diode bridge relying on the dynamic resistance of the diodes changing with current provided by control voltage to act as a level control element. Compression attack time is fixed, though the third major revision, the 2254E, offers faster attack times.
The 354E plug-in pairs the characteristics of vintage circuitry with modern utility, modelling the compressor across each of its three (low, mid, high) independent frequency bands with adjustable crossover frequency bands. Features include: independent five-step Ratio – ranges from 1.5:1 (for mastering and master-bus compression) through to 6:1 (for shaping individual tracks); switchable Nuke mode (for over-compressing); Link (Mid-Side) mode; sidechain/HPF, switchable Niveau filter (for tilting sidechain/HPF frequency response towards bass energy preservation); Mix control (for parallel processing); M/S (link) and Solo for each frequency band; adjustable, wide-ranging Attack and Recovery (release) controls ranging from 2μS attack to Auto release; optional Auto makeup Gain for each band; two-way dB meter; and resizable user interface and up to 16x oversampling for digital precision in any environment.
The 354E is, in practical terms, two compressors in one – vintage-sounding, suited to mastering and mixing applications, and radical reshaping. It claims the nuanced behaviour befitting master-bus compression.
The 354E is available for purchase as an AAX Native, AU, VST2 and VST3 plug-in for Mac OS-X (10.8 through 10.12), Windows (7 through 10), and Pro Tools 10.3.10 (or higher) – from Plugin Alliance and select VSSD (Virtual Stock Software Distribution) retailers.