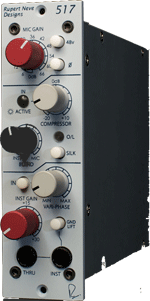 Rupert Neve Designs has made its first foray into the 500 Series with the Portico 517 Pre/DI/Comp module. 'Engineers have been requesting that Rupert design modules for the 500 Series for years now, and with the 517 we've developed a module that really takes the format to its limits,' says Marketing Director, Tristan Rhodes. 'To be able to offer a Rupert Neve Designs preamplifier, instrument amplifier and compressor with the same transformers as the 5017 in a 500 Series module is simply tremendous.'
Based on the Portico 5017 Mobile Pre, the 517 provides transformer-coupled preamplifier, compressor and DI circuitry, with Vari-phase, Silk and DI/mic blending capabilities. Based around a new LDR (light dependent resister) design, the 517's opto-coupler compressor has been simplified to a single threshold control with auto make-up gain and a fixed 2:1 ratio. To set the compressor, dial the threshold control down until the desired amount of compression is achieved. A built-in LED indicates when the compressor is active.
Used as a single-channel device for instruments, the 517 can be used to phase align, combine and compress direct and amplified signals. To achieve this, the instrument's direct signal is sent to the DI input and the speaker cabinet signal via the mic preamp input. The blend control is used for mixing direct and amplified signals to achieve the desired tonal blend between the two sources, and the Vari-phase control is used to minimise or attenuate phase cancellation between the two signals. The compressor can be applied to both channels. This technique can also be used to create a single, mixed output of a guitar and vocals or any other pair of sources.
More: www.rupertneve.com