Radial Engineering has released the Radial JDX Reactor, a combination speaker simulator and direct recording interface designed for the 500 series format.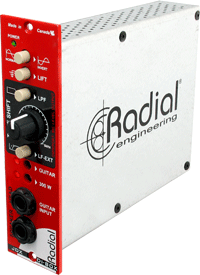 Following its stand-alone JDX Reactor, Radial's JDX Reactor module is to capture both the sound of the guitar head and the speaker cabinet. This is achieved by introducing a reactive load that not only captures the sound of the head, but the back-electromagnetic impulse from the loudspeaker. The signal is then processed via a proprietary multi-stage band-pass filter that emulates the tone of a 4x12 half stack cabinet.
'The JDX is gaining tremendous traction in the market, primariy in live touring,' Radial's Peter Janis reports. 'We have seen bands of all types begin to use it, from Megadeth, Dimmu Borgir and Slayer to country and rock acts like Rascal Flatts and Evanescence. Even bass players such as Michael Anthony (formerly with Van Halen, now with Chickenfoot) and Danny Miranda with Queen are now touring with it. We felt this success could probably begin to pay dividends in the recording world too.'
While the original JDX is designed primarily for stage use, the JDX Reactor module adds options for the recording environment. This includes an onboard low-pass filter that allows one to tame excessively bright amplifiers, a low-frequency extension to replicate the tone of a 15-inch driver when recording bass and a high-output setting that switches the JDX Reactor module from 100W to 300W for powerful amplifiers. To add further convenience and speed to the recording process, the module can be set to 'guitar mode', where a guitar can be connected directly into the module to take advantage of the speaker cabinet emulation filters. This can be supplemented by adding a distortion or overdrive for tracklying without a guitar amp or microphones. Being able to record 'quietly' will appeal to home studios and late-night sessions.
The JDX Reactor module features fully discrete electronics throughout, transformer isolation to help eliminate ground loops and a fully shielded back box to help eliminate stray fields from entering the device or polluting others that may be nearby inside the 500 rack.
More: www.radialeng.com