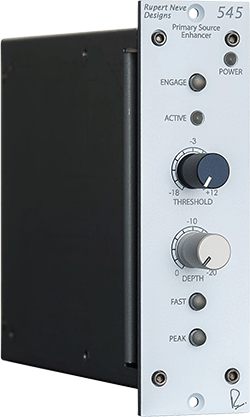 Rupert Neve Designs has announced the 545 Primary Source Enhancer, a 500-Series version of the Portico 5045 analogue feedback eliminator that marks 'a step forward in Rupert Neve Designs' commitment to new products in the live sound, install and broadcast markets'.
Based upon the circuitry in the company's two-channel Portico 5045 (in use with tours, arenas, houses of worship and broadcast stages worldwide), the 545 is a 500-Series compatible mono device for vocal or instrumental feedback reduction applications. According to Rupert Neve Designs, the 545 'delivers the world's most natural feedback reduction and adds focus to your primary sources' by effectively increasing the level of a live microphone signal before feedback occurs by up to 20dB.
Unlike more traditional devices in this market, the 545's all-analogue signal path does not use filtering or digital processing to achieve its benefits, and is also built around Rupert Neve Designs' custom input and output transformers. According to the company, this allows the 545 to 'provide superb control and sonic performance without compromising the integrity of the source material'.
The 545 Primary Source Enhancer begins shipping Q2 2018, with an MSRP of US$749.
More: http://rupertneve.com