Nugen Audio has announced SigMod, a utility toolbox plug-in that promises 'thousands of ways to enhance your plug-ins and DAW tagline with straightforward signal flow modification'.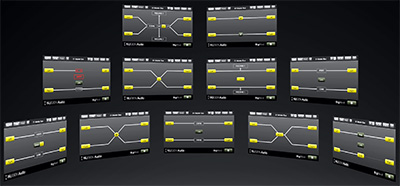 Comprising 11 single-process modules that can be inserted, swapped, and moved around, SigMod expands DAW flexibility by allowing access to creative and advanced production techniques even if not supported natively within its user's DAW/plug-in collection. The selection of single-process modules includes Mid/Side (for converting stereo plug-ins to mid/ side operation); Protect (for safeguarding digital equipment via virtual protection 'circuitry'); Mono (for switching the signal path to mono to check for phase cancellation and image issues); Switch (for switching over the left and right or mid/side signals); Delay (for delaying the signal path in milliseconds or samples); Phase (for inverting either side); Trim (for applying dB offset); DC Offset (for detecting and offsetting accordingly); Tap (for parallel processing); Crossover (for splitting frequencies to apply band-limited effects); and Mute/Solo (for muting or soloing a specific channel).
Combining these modules in any order allows SigMod users to design the precise routing required, resulting in instant inclusion of 'missing' features for easy exploration of new creative choices with auto-resizing keeping signal flow and functionality clear at all times.
SigMod is available to purchase as a 32/64-bit-supporting AAX, AU, VST-, and VST3-compatible utility toolbox plug-in for Mac (OS-X 10.7 and above) and Windows (Vista and above).
More: www.nugenaudio.com.com