Waves Audio's SoundGrid Rack for Venue enables live sound engineers to run Waves plug-ins directly within Avid's Venue S6L mixing console with control from the console's surface knobs and integration in the Venue software.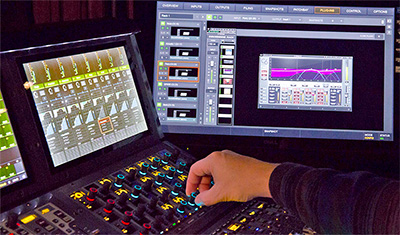 Eliminating the need for a computer host or an external network switch, SoundGrid Rack can load up to eight SoundGrid-compatible Waves plug-ins per instance. All standard Venue plug-in features apply, including Config and Show modes, delay compensation, snapshot automation and tactile control of plug-in parameters.
Up to 128 mono or 64 stereo SoundGrid Racks can be run within the S6L, each containing up to eight plug-ins. The included SoundGrid Inventory component (also available as a separate download from Waves Central) manages the SoundGrid network and allows monitoring of its status.
The system comprises the WSG-HD Waves SoundGrid Option Card (purchased separately from Avid), Venue software v5.7 or later, a Waves SoundGrid Extreme Server or SoundGrid Server One to process the plug-ins, and Waves plug-in licences.
With the WSG-HD card installed in the console's engine, up to two Waves SoundGrid servers (primary and redundant) can be connected directly to the S6L system, with no additional interface, network switch or computer host necessary.
'We are delighted to offer Waves SoundGrid technology to Avid, for integrated SoundGrid control and the use of Waves plug-ins on Avid's Venue S6L live console, thus boosting its mixing capabilities and offering live sound engineers a significantly enhanced and creative workflow,' says Mick Olesh, Waves EVP of Sales & Marketing.
'We've worked with Waves to deliver a completely integrated experience for our live sound customer community,' adds Al McKinna, Director of Live System Product Management at Avid. 'With Waves SoundGrid set-up and plug-in control now fully incorporated into the Venue software, S6L customers will enjoy the intuitive, lightning-quick workflows they need to mix the most demanding of live shows with ease.'
Key features:
Run Waves plug-ins directly within Avid Venue S6L.
128 audio paths at 96kHz.
Follows standard operation of all plug-ins in the Venue plug-in rack.
Tactile control surface mapping for all Waves plug-ins.
Snapshot automation for plug-in parameters.
Legacy Venue show file compatibility.
Server redundancy with automatic failover .
No external computer host or network switch necessary.