Waves Audio has updated the F6 Floating-Band Dynamic EQ in response to demand and end-user feedback.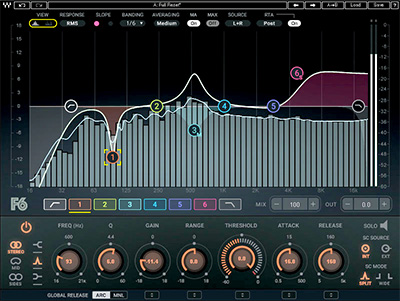 The Waves F6 real-time frequency spectrum analyser is a 'surgical' dynamic equaliser with six floating, fully-adjustable parametric filter bands, advanced EQ and compression/expansion controls per band, and mid-side processing.
The new real-time frequency spectrum analyzer is easily accessible from the main plug-in interface. In addition, features can be customised to meet personal needs. New features include adjustable resolution, adjustable reaction speed, RMS vs peak response, pre-EQ, post-EQ and sidechain options, frequency, note and amplitude display based on cursor position, and diverse LR monitoring.
Filters filters can be as narrow or as wide as desired, free-floating bands can overlap, and variable EQ shapes and threshold-sensitive EQ settings are available. Advanced mid-side processing capabilities give greater ability to create EQ space in a busy mix.
New features:
FFT-based RTA.
Pre-EQ, post-EQ & sidechain options.
Peak/RMS modes.
Diverse monitoring options.
Adjustable reaction (averaging) speed and resolution.
Pink and white noise slopes. Easy access to all analyser features from the main GUI.
Update is free to all F6 Dynamic EQ plug-in owners.
More: www.waves.com