PreSonus has updated its Studio Magic Plug-in Suite for Mac and Windows. The bundle includes seven plug-ins in VST, AU (Mac), and AAX formats.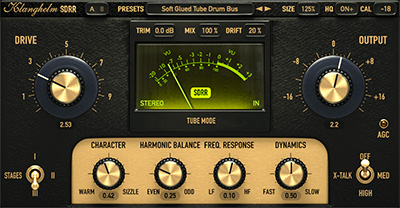 The Klanghelm SDRR2tube can be a saturation processor, a compressor, an EQ, a bit-crusher, or a subtle stereo widener—or it can simply add movement to tracks. A comprehensive set of controls allow manipulation of the character of the saturation to make it sit perfectly in your mix.
Output Movement is an effects plug-in for studio or stage that adds rhythms to any input in real time using four rhythm engines with sidechains, proprietary Flux mode, LFOs, step sequencers, and macros. Analogue modelled effects optimised for modulation add rhythm with reverb and compressors pumping, filters and EQs opening and closing, delays morphing, and tube distortion warming and cooling.
SPL Attacker is a micro-plug-in that employs the same Differential Envelope Technology as SPL's Transient Designer. Using SPL Attacker, all attack events can be amplified, regardless of their signal level. By focusing on the initial transient instead of specific frequencies, SPL Attacker amplifies just the attack curves of a sound event. This allows instruments to be mixed at lower levels, which opens up space in the mix, while the relationship between tracks is preserved.
Mäag Audio EQ2 two-band hardware equaliser for exceptionally low phase shift across all EQ adjustments, which helps maintain the integrity of a mix's original sound while enhancing 'air' frequencies. An input attenuator enables levels to be normalised after applying EQ.
Lexicon's MPX-i Reverb delivers seven classic Lexicon plate, hall, chamber, and room reverbs through a streamlined interface and 100 versatile, finely crafted presets. Input and output metering allow levels to be monitored at a glance.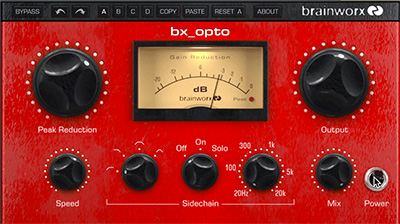 The Brainworx bx_opto compressor combines the best aspects and anomalies from several light-dependent compressor circuits, providing a powerful dynamics processor that delivers sounds that can't be achieved with analogue optical compressors.
Arturia's Analog Lab Lite is a Greatest Hits collection of physically modelled classic analogue synths, organs, string machines, and pianos from Arturia's V-Collection of virtual instruments. Enjoy models of iconic instruments from Oberheim, Roland, Sequential Circuits, ARP, Hammond, Fender, Wurlitzer, Moog and Vox.
The PreSonus Studio Magic Plug-in Suite is free to registered owners of PreSonus' AudioBox 96 USB, AudioBox i series, Studio series, and Quantum series interfaces and StudioLive Series III, StudioLive AR USB, and StudioLive RML-series mixers. The software will be automatically added to registered users' online MyPreSonus accounts when registering an eligible interface or mixer in 2018.
More: www.presonus.com