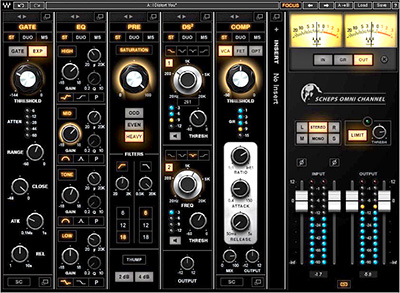 Waves Audio has released the Scheps Omni Channel plug-in, designed in co-operation with Grammy-winning mixer Andrew Scheps (Adele, Jay-Z, Metallica).
Presenting combinations of compression, EQ and saturation crafted to work seamlessly and cohesively, drawn on Scheps' years of mixing diverse music genres. He has refinied combinations of go-to processors – some based on classic hardware, some being modules developed from scratch – each with its own unique character. These are all provided through the Omni Channel channel strip plug-in.
The strip features six modules that can be use in any order:
The Pre-module provides three types of analogue saturation, for diverse colours of harmonic distortion as well as filters and thump (resonance) controls.
The Compression module features three different compressors ranging from fast to slow and smooth, with a unified control set that allows quick comparison between them. A Wet/Dry control allows parallel compression within the module.
The EQ module is a four-band equaliser; each band providing a distinct musical sound that holds up on its own or can be switched to fully parametric if surgical EQ is required.
The DS2 module is an extended de-esser, with two full-range bands and four filter types allowing it to 'de-anything' – remove any offending frequencies on any source, not just S's or T's.
The Gate module gives all standard controls (threshold, attack and release) for gating/expansion, but also offers adjustment of the maximum noise reduction to maintain a consistent noise floor.
The Scheps Omni Channel also features an insert slot that can be positioned anywhere in the chain, for additional Waves plug-ins, including an extra instance of any of the Scheps Omni Channel modules. For live sound, it offers zero latency and fullest discrete control over each stereo channel. Select controls of the compressor, EQ and filters are mapped conveniently to the eMotion LV1 live mixing console, serving as the console's channel strip.
Key features:
Pre, compression, EQ and gating modules.
DS² module with two full-range bands and four filter types.
Insert slot.
Drag-and-drop any module anywhere in the channel strip.
Internal MS/Duo/Stereo routing per module.
Stereo component provides full discrete control over each channel.
Flexible shaping of internal or external sidechain input.
Zero latency.
A set of Andrew Scheps' Focus presets, created for different sources. Also included are presets from top mix engineers, including Tony Visconti, Dave Darlington, Brad Divens, Billy Bush, Jacquire King, Ken 'Pooch' Van Druten and Eddie 'El Brujo' Caipo.
More: www.waves.com