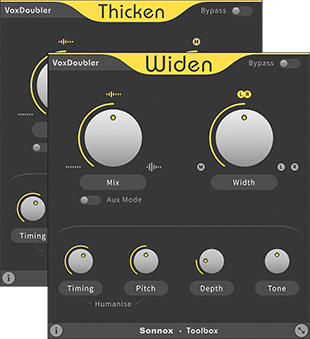 The first plug-in in a new range from Sonnox called Toolbox, VoxDoubler addresses the longstanding issues of time, effort and expense associated with real vocal doubling, and that of realism in automated processing by providing in a real-time process that the company claims to sound as lifelike as if the doubled parts were actually multitracked.
VoxDoubler is comprised of two processes (presented as two separate plug-ins) called Widen and Thicken, which are bespoke engineered to help with the two most common vocal doubling workflows.
The Toolbox range has been conceived to solve universally complex and time-consuming problems that affect beginners and audio professionals alike. Toolbox plug-ins employ Sonnox's heritage and expertise in building high-quality, precise and transparent-sounding audio processes.
Following an introductory period, VoxDoubler will be priced at £69 (US$99) from March 2018 onwards Two activations are provided per licence purchased, one of which can be machine authorised with a free iLok account.