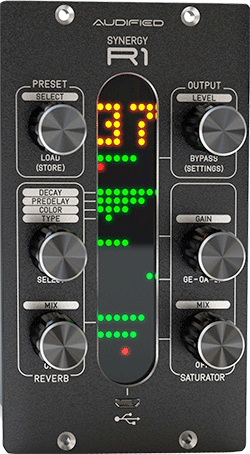 Audified has announced the Synergy R1 – the Czech company's its first hardware unit, which also has 'remote-control' software.
The Synergy R1 combines hybrid digital (Reverb) and analogue (Saturator) processing in a 500-series modular rack format. There are seven reverb algorithms in with three kinds of true analogue saturation that can be controlled from within a DAW.
The digital signal path uses 24-bit A/D and D/A convertors and 32-bit floating point DSP with true bypass. The reverb models range from Room up to Tunnel, and ffer control via four front panel parameters – Decay, Predelay, Color and Type. The analogue Saturator section features three switchable saturation circuits with GE (Germanium), OA (OpAmp), and JF (J-FET) types, with a gain control. Centrally positioned, the display uses LEDs to aid parameter editing. Both sections include wet/dry mix controls, so Synergy R1 can be used as a digital reverb, an analogue saturator and any combination of the two.
The Synergy R1 Control plug-in can be used from within all major DAW host applications on Mac and Windows (with AAX, AU, VST2 and VST3 support). Hardware parameters can be automated and are saved within projects. The plug-in supports multi-instance use, so several plug-ins can be assigned to one hardware unit. Also included is a standalone Synergy R1 Control application, allowing independent control of Synergy R1 via MacOS (10.9.5 and above) or Windows (7 and above).
More: www.audified.com