Newfangled Audio has partnered with Eventide to EQuivocate enter the EQ plug-in arena with a processor based on the critical bands of the human ear.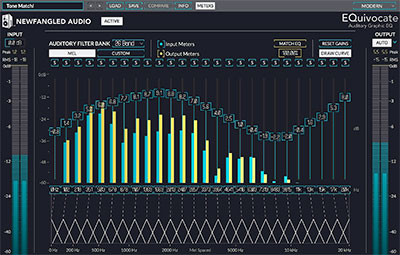 EQuivocate is intended to allow natural-sounding changes the tone of any sound, making it well suited to mixing and mastering applications. As the EQuivocate filters are modelled on the human ear, each of its 26 bands addresses a different part of the inner ear, making any combination of settings sound as natural as possible. Combining this with a linear-phase filter shape that reduces pre-echo makes EQuivocate an EQ with a difference that can clearly be heard.
EQuivocate's Match EQ feature can make the sound of a track match or complement the audio signal streamed to its sidechain. It can also make a final master match the tone of a reference track, or help fit a sound into a dense mix. Unlike other match EQ plug-ins, EQuivocate provides a transparent match without trying to model imperceptible differences, which can cause a match EQ to sound unnatural.
Key features:
· 26 linear-phase auditory filters address the ear'scritical band filters.
· Match EQ matches the tone of one track to another.
· Tracks can be belnded to sound like they came from the same source.
· EQ curves can be drawn with a mouse then fine tuned with Draw Curve.
· Output level Auto button compensates for level changes introduced by the EQ.
· Solo one or more bands to find problem frequencies.
· Add or remove filters.
The plug-in includes artist presets from Richard Devine, Jeremy Lubsey, Alex Saltz, Sebastian Arocha Morton, Richard X and John McCaig.
More: www.newfangledaudio.com