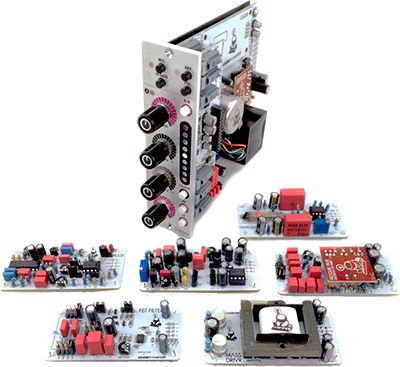 Claiming a 'world first' for a 500 series audio processor with Twin Tone-Amp architecture and the ability to accept real analogue plug-ins, US company Louder Than Liftoff has released Chroma - Twin Tone-Amp with Colour.
'Answering the call for a single channel Silver Bullet, Chroma delivers with its twin topology (A or N) line processor and mic amp but adds an exciting twist – an analogue plug-in slot accepting Colour Modules,' says company founder and ex-aerospace engineer, Brad McGowan. 'This feature allows additional processing and effects to be inserted into the signal path and mixed with Chroma's classic A or N inspired Mojo Amps.'
Key features:
· Mic or Mix/Line mode.
· 48V phantom power.
· Polarity reverse.
· Mix/Line Gain: 0dB to +26dB, +26dB to +52dB (High Gain mode).
· Mic Gain: +8dB to +34dB, +34dB to +60dB (High Gain mode).
· Colour Drive: -6dB to +18dB.
· Baxandall Tone Boost EQ.
· LF (+3dB): Pultec-inspired subsonic (30Hz) and bass (60Hz) frequencies.
· HF (+4dB): Presence and Air frequencies.
· Vintage: softens high-frequency response to emulate vintage British consoles.
· Custom American-made transformers.
· Custom Rogue Five discrete op-amps conforming to 2520 footprint.
· Signal present indicator and bi-directional meter.
· Circuit components chosen by ear.
'We set out to create not just a company or a product, but an experience that embodies what we would like to have as music makers and consumers, so we put that love and care into every last detail of what we do,' McGowan says.