US metering specialist MAAT has released a digital model of the Roger Schult/German Audio Lab Phase Shifter 500 Series W2324 hardware.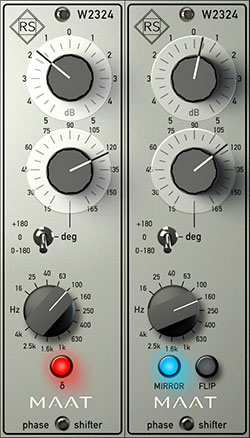 Available in formats for all major DAWs, RSPhaseShifter v1.0 is a cross-platform plug-in that uses double precision internal processing and algorithms optimised for fidelity. Providing a fast, convenient means of aligning individual mix elements for best subjective results, RSPhaseShifter also offers a delta mode, to preview isolated audio reflecting only the content that has been altered by signal processing. This extends the application to the control of frequency – dependent stereo spread for MS working.
Other features include very high resolution, real-time adjustment of resonant frequency, gain compensation and phase angle adjustmentfrom 15° to 360°. Mirror and Flip modes speed the selection of two-channel settings, while the compact layout of the UI echoes the original W2324 module. Sample rates from 44.1kHz to 384kHz are supported, as is the AU format along with VST2/VST3 and AAX plug–in formats for macOS and Windows.
'RSPhaseShifter was created in conjunction with Roger Schult/German Audio Lab, and is a painstaking 64-bit digital realisation of Schult's trusted Phase Shifter W2324 analog module, not a model or simulation,' Friedemann Tischmeyer, President and co–founder of MAAT Inc says. 'RSPhaseShifter's analog–style controls are the same as those found on the W2324 hardware, with improvements only available in the digital domain.
'Key differentiators are accuracy of the signal processing, and musicality of the result. When multiple sources compete rather than complement, RSPhaseShifter should be the choice for a fast, intuitive, easy to use and effective remedy. This tool's value is more about what it does (phase manipulation)… so we left out stuff like fake transformer colour, hum or Johnson Noise. We simply provide convenient access to the useful functionality along with a classic API Lunchbox look.'
More: www.maat.digital