The Crest Audio Tactus digital mixing system comprises hardware and software components incorporating the Waves eMotion LV1 Mixer for SoundGrid. This runs on Windows PC or Mac using up to three multi-touchscreens. In addition to providing a full complement of professional features, the Tactus system allows the use of Waves audio processing plug-ins for live events.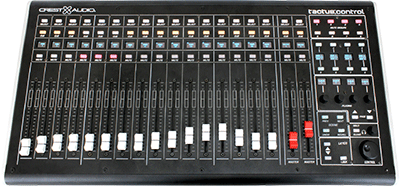 Using Waves Soundgrid audio network protocol, the Crest Audio Tactus systems comprises of three hardware units – Tactus.FOH, Tactus.Stage and Tactus.Control – with each addressing the input and output, monitoring and control plus synchronisation requirements of audio signals at the stage and front of house points. The modular approach provides scalability for any size event, targetting a wide variety of applications including touring, corporate, houses of worship, performing arts and live music concerts.
The Tactus touchscreen operating interface puts all of the audio routing, processing and mixing tools within easy and immediate reach. Tactus.FOH provides the audio processing core for the system, with Tactus.Stage adding a 32-input/16-output remote stagebox. The modular capability of the system, which interconnects via standard Gigabit Ethernet cabling and an internal Gigabit switch, allows multiple configurations in a range of channel counts to best suit each application.
Tactus.FOH is powered by the Waves SoundGrid audio processing/networking platform, ensuring extremely low latency with precision audio processing. The Tactus.FOH frame provides eight local microphone/line inputs and eight line outputs in addition to two AES outputs and serves as the audio processing engine.
Tactus.Stage supports 32 microphone/line inputs and 16 line plus to two AES outputs. The digitally controlled mic preamps feature ultra-low input noise, high slew rate, very low THD, and 66dB adjustment range in 1dB steps. An integrated gigabit Ethernet switch allows easy networking. Users also combine Tactus.Stage I/O interfaces for a total of 64 stereo inputs by 32 stereo outputs.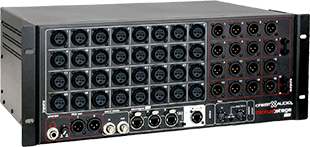 Tactus.Control is a tactile motorised fader board complimenting the eMotion LV1 touch screen by providing moving faders, lighted buttons and knobs for the most commonly used functions. It has 16 channels plus master motorised faders, with Mute, Cue and Select buttons along with a multi line scribble strip display. These can follow screen layer selections or be locked on a layer for expanded control.
The Waves eMotion LV1 mixer application runs on a Windows PC or Mac with one, two or three multi-touchscreens. One or two Tactus hardware surfaces with moving faders can be added for tactile control connected via USB to a PC running the eMotion LV1 software and connected to the Waves SoundGrid network the Tactus.Control allows tactile feedback to the sound engineer as typically required for live performances without having to look down at a touch screen. Multiple Tactus.Control panels can be used to create a flexible live sound mixing system.
'Working closely with Waves, we believe that Tactus offers a professional sound mixing platform that is fitting for today's digital demands, with features that will benefit all users, from the workplace to a live music venue,' says Peavey Commecial Audio EMEA Operations Manager, James Kennedy. 'We've made connectivity and networking simple, with USB, Ethernet and MIDI all available. What's more, Tactus is flexible to your application needs, with I/O components, processing, touch screens and controllers all being catered for to allow easy set-up customisation.'
Production is now ongoing with first orders expected to ship in Q4.