The introduction of Yamaha's TF series of mixing consoles brought intuitive operation and fast, flexible set-up. Joining the line, the new TF-Rack can be housed in spaces that might not be big enough for a full console, even one as compact as the TF1 mixing console. TF-Rack can be conveniently set up and operated in the most difficult areas using wireless apps including TF Editor, TF StageMix and MonitorMix, featuring user interfaces that extend the mixer's own on any device.

Housed in a 3U-high, 19-inch rack casing TF-Rack is an all-in-one 16+1 stereo input/16 output digital mixer featuring the TF series' ease of set-up and operation. It features the same touchscreen as the TF1, TF3 and TF5 consoles, allowing easy, efficient operation with TouchFlow Operation, which combines Yamaha's Selected Channel and Centralogic interfaces. As with the TF series consoles, a hardware Touch & Turn control on the front panel allows for very precise parameter adjustment.
Using Yamaha's 1-knob Comp, 1-knob EQ, QuickPro Presets for specific musical instruments and microphones have been designed to provide quick, easy access to effective settings, while set-ups for any situation can be instantly loaded via a simple scene recall. A number of preset scenes are provided to give new users a head start, with dual scene memory banks making it easy to organise scenes by music or event type.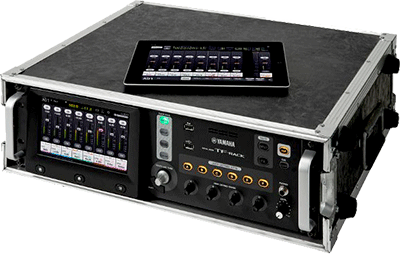 The latest firmware for all TF series mixers is released concurrently with TF-Rack. As well as providing support for TF-Rack, firmware v3.0 also adds convenient features such as the ability to set up limited-access user accounts for each operator and additional QuickPro Presets developed in collaboration with Ultimate Ears.
The unit also features recallable Yamaha D-Pre microphone preamplifiers. Input and output channel processing, including EQ, gates and compressors, is complemented by eight processors featuring Yamaha's SPX technology, providing a broad range of options for sonic manipulation. TF-Rack has a comprehensive range of I/O connections on its rear panel, including 16 analogue XLR/TRS combo mic/line inputs and plus stereo analogue RCA pin line inputs. Outputs include eight analogue XLR and eight analogue TRS outs. 34 x 34 digital record/playback channels can be accessed via USB 2.0 + 2 x 2 and a USB storage device.
An expansion slot for an optional NY64-D audio interface card is provided. This, along with a Tio1608-D I/O rack unit, are all that is needed for a basic Dante network with high audio quality and low latency.
With 40 input mixing channels, 20 aux buses and eight DCA groups with Roll-Out, TF-Rack is a highly flexible mixing solution. Small enough to be deployed in the most constructed area, it has enough capacity to satisfy a very wide range of applications and locations.
More: www.yamahaproaudio.com