Like the other models in Mackie's ProFX Series mixers, the new 16-channel ProFX16 and 22-channel ProFX22 include features designed to eliminate the need for additional rackmount gear – including increased channel count and dedicated inline compression. The new desks will make their first appearance at the 2011 Plasa show in London.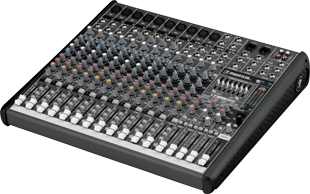 'The ProFX line has always been about maximum utility,' says Matt Redmon, Mackie Product Manager. 'With the ProFX16 and ProFX22, larger applications can benefit from Mackie's out-of-the-box live sound solution.'
On the front end are Mackie low-noise, high-headroom preamps with LED metering and 60mm faders on each channel. Every channel also features three-band EQ and have access to an integrated 32-bit RMFX effects processor with 16 'gig-ready' FX and a 7-band graphic EQ for simple tuning of mains or monitors. A built-in USB interface allows a show to be recorded and streamed back music for breaks or integration into the mix.
The ProFX16 and ProFX22 offer a higher count of mic preamps for larger applications and feature dedicated inline compression for simple, one-knob compression of critical vocals and instruments. 'They're easy to operate, sound great and virtually eliminate the need for expensive, heavy outboard gear,' says Redmon. 'They're perfect for any performance venue, house of worship or band that needs a ton of professional tools and are on a budget.'
The ProFX16 and ProFX22 join the ProFX Series, which features the ProFX8 and ProFX12. The ProFX16 has an MSRP of US$629.99/£499 inc VAT. The ProFX22 has an MSRP of US$809.99?£669 inc. VAT.
More: www.mackie.com