Updating its Elements series of loudspeakers, Peavey Electronics has improved the dust and waterproofing of its IP-56 rated Elements C series, ensuring sonic performance and greater longevity.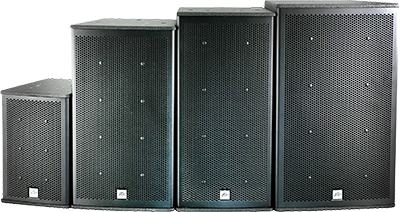 The Elements C series enclosures are constructed from a composite material that is dimensionally stable in wet conditions and resists contamination, yet has the resonant properties of wood. The Black Hammerhead poly-urea finish is similar to a high grade of truck-bed liner, further sealing the waterproof composite cabinet panels from the environment. On the front, a stainless steel moisture-repellent grille has reticulated foam and a layer of hydrophobic water-repellent cloth for triple-layer performance that doesn't affect the speaker's sonic quality. On the back, gland nut entry into the water-sealed input cup plate assures no water will leak where the speaker cable comes in.
The crossover assembly is conformal coated, meaning all the components and the PCB they are mounted to have a layer of plastic coating to insulate them from moisture. The connections to the speakers and an optional 70V transformer use waterproof automotive grade connectors. Advanced technology composite fibre panels consist of a fibreglass-resin sheet skin on both sides and a foamed resin core, ensuring they will not rot or degrade with time or exposure to weather. In addition, the water-resistant 1kW Black Widow woofer is built with a dust cap that's water-repellent and can withstand direct contact with water for longer periods of time.
The Elements C series speakers are available in three two-way, full-range configurations and as a flyable subwoofer. The Elements 108C combines an 8-inch weatherproof woofer and 75° x 75° horn in a compact and durable enclosure. The Elements 112C and Elements 115C feature 12-inch and 15-inch Black Widow woofers, respectively, along with an RX 22 2-inch titanium diaphragm compression driver tweeter coupled with a Quadratic-Throat Waveguide rotatable horn, available as 60° x 40° or 105° x 60°. The Elements 212C Sub enclosure features a pair of 12-inch weatherproof woofers.
Installation uses the Elements Pole Mounting System, offering customisable angle adjustment for installation in a wide range of locations.
More: www.peavey.com