Next-proaudio has added the LAs418A to its subwoofer range – a 2x18-inch active reflex sub.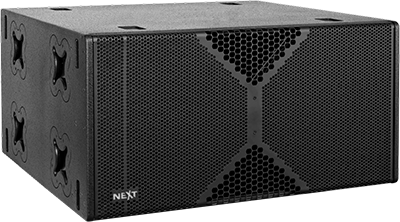 Housing two long-excursion and very high-power B&C 18-inch drivers, the LAs418A has been designed to offer ultra-low frequencies at a very high SPL, and combines optimised acoustic, electro-acoustic and electronic solutions to maximise efficiency. Its DPA4000 (power module with DSP) can deliver up to 4kW rms.
The heart of the new Next-proaudio powered speaker series, is a powerful, light-weight, class-D power amplifier module, with PFC switch mode power supply, that delivers sonic punch with balanced, sound at any level. The PC controlled networkable DSP (96kHz, 24-bit) with AD/DA low-noise converters, provides eight selectable presets (six factory-defined, two user-defined) that can be accessed by a selector on the front module panel or real-time edited by a PC, using the supplied Soundware II software, via RS485 or USB remote control.
An intelligent automatic standby mode is activated when the amplifier detects no input signal, saving energy and extending the expected work life. With the Soundware II software is possible to edit the six pre-loaded presets and store it in one of the two free memories. Editable parameters are: Input equalization, Input delay, Input High-pass/Low-pass filters and the Bass Enhancer function. A total of 255 units can be controlled simultaneously by the software.
LAs418A is versatile enough to address any fixed installation or rental application. Sound designers, engineers and integrators can choose from standard or cardioid configurations, creating a variety of symmetric and asymmetric directivity patterns adapted to each specific solution.
The cabinet volume with optimized port tuning featuring extremely high peak-to-peak excursion, is capable to deliver true sub performance down to 24Hz at -10dB. Providing low frequency resolution and a maximum Peak SPL of 143dB in a 89kg, front-loaded, bass reflex enclosure and measuring 1030mmx516mmx920mm (WxHxD), the new subwoofer version incorporates 8 handles, housed within a multi-laminate birch plywood enclosure and finished in textured black semi-matte coating.
The new products are available for order immediately and will ship in Q2 2018.
More: www.next-proaudio.com