Positioned at the top of the the d&b audiotechnik product portfolio, the SL-Series, GSL System, a new loudspeaker system is the result of a four-year development programme that resulted in new drivers, clever cabinet geometry and flexible mechanics. The GSL System is a complete solution created for the largest sound reinforcement applications in significantly sized arenas, stadia and festivals.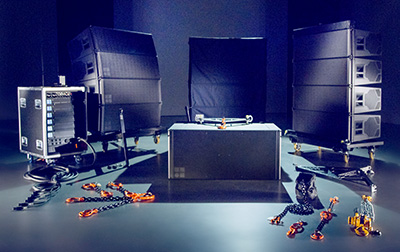 The GSL8 and GSL12 loudspeakers, with 80˚ and 120˚ horizontal dispersion respectively, are unique among large-scale line array modules in providing consistent pattern control down to 45Hz.
The geometry of two front-facing 14-inch drivers and two side firing 10-inch drivers couple and apply cardioid techniques, creating precise directivity behaviour with significantly extended low-frequency headroom towards the audience.
This low-frequency extension and headroom is so effective that it negates the need for subwoofers flown behind or alongside the main hangs in many applications. Mid-range is delivered by a high sensitivity horn loaded with a 10-inch driver, while three innovative, custom designed 3.4-inch diaphragm HF drivers mounted on a wave shaping device provide the high frequency resolution and output.
Each loudspeaker is driven in two-way active mode by d&b's D80 amplifier – one channel powers the 14-inch drivers, with all other components passively crossed over and powered by a second channel. The SL-Sub and SL-GSub complement the low end with two forward-facing 21-inch drivers and a single, rear-facing 21-inch driver delivering the cardioid dispersion. The SL-Sub can be flown, while the SL-GSub is designed for ground stacked applications. Driven in two-way active mode from two channels of the D80 amplifier, the outstanding SPL and headroom reduces the number of subwoofers typically required.

'The GSL System is the result of finding solutions to many challenges, particularly in creating accurate directivity performance right down to the lowest frequencies and delivering such power from a loudspeaker weighing only 80kg, while still maintaining the all-important architecture' says Head of R&D Acoustics, Matthias Christner. 'With GSL, we have delivered this and more, yet it is comfortable and familiar for all those used to the d&b Workflow.'
Completing the package, the SL-Series uses a patented combination of tension and compression modes and procedures to the d&b three-point rigging. The compression mode enables a straight array to be flown from the touring carts, and a hoist or hand winch then curves the array to the defined splay angles. Designed to fit within standard shipping container and truck sizes, touring carts with covers transport four GSL8 or GSL12 loudspeakers, or three SL subwoofers. The Touring rack assembly housing six D80 amplifiers also contains a DS10 Audio network bridge, the MC24 multicore system and provides PoE for the d&b ArraySight inclinometer. This also sends temperature and humidity information to the R1 Remote control software using the OCA/AES70 protocol.
'We listened carefully to what people using systems said, as well as noting what they did with them,' says Werner 'Vier' Bayer from d&b Product management. 'We then coupled this with our own experiences to arrive at a vision of what a future system should achieve. To hit those exacting targets, we first thought the entire d&b architecture would be turned on its head, but Matthias Christner and his R&D team methodically worked through the technical challenges. They found clever solutions to deliver the performance targets, still aligned with the established d&b approach.'
'The GSL System echoes the spirit that has always driven d&b forward,' adds d&b CEO, Amnon Harman. 'Taking the time to completely understand market demands and requirements, then setting out to find the right audio technology solutions to fit a clear vision of the needs. The determination, commitment and quality demonstrated by the team through the development of the GSL System has been an inspiration to us all. We now look forward to working with our customers to deliver outstanding concert and event experiences to audiences all over the world.'
More: www.dbaudio.com