US company BassBoss has announced the DJ18S Powered Subwoofer, targeting mobile users needing extended bass from a smaller cabinet such as DJs.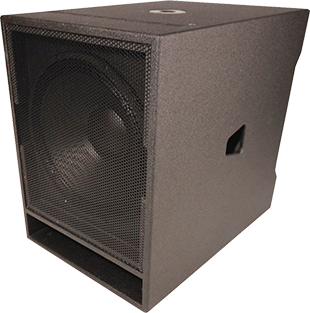 Weighing 110lbs, the DJ18S is self-powered via a 2.4kW (continuous) amplifier and claims output 3dB down at 27Hz. deep bass output than competing subs. The long-excursion 18-inch woofer has a 4-inch copper voice coil for superior power handling and a Neodymium magnet structure for high sensitivity, making the DJ18S light and loud.
'The secret sauce of the DJ18S is in the proprietary processing of the integrated, comprehensive DSP,' says designer, David Lee. 'Although no equalisation is required to achieve its stated frequency response, it includes a comprehensive DSP. The processing consists of high-pass and low-pass filters as well as multiple protection systems and limiters to control all manners of driver overload, including thermal, excursion and clipping. The protection systems effectively prevent the overheating of the voice coil and minimise long-term thermal compression while having virtually no effect on the transient response and peak output of the loudspeaker. The processing ensures seamless integration with all BassBoss Powered Subwoofers, Tops and MicroMains. No external processing is required to achieve premium performance.'
Rugged 18mm Baltic Birch plywood ensures a solid structure and a long lifespan for the DJ18S. Stainless steel bolts are used to secure the drivers, amplifier and pole sockets. A perforated steel grille protects the waterproofed woofer cone and a black polyurea coating seals the wood from the elements and wayward refreshments.
With the custom fit wheel cart, the DJ18S can be easily rolled in and out of venues speeding load-in, while custom fitted covers offer protection in trnsit and storage
More: www.bassboss.com