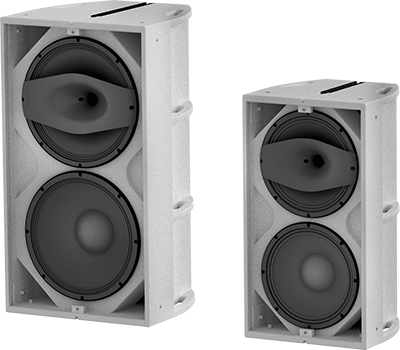 Following the Stadia Series of permanent outdoor installation loudspeakers, Outline has announced the Arena Series down-scaled range for smaller projects.
Featuring the same OutSide Coating Technology – the three-layer elastoplastic weatherproof protection used on their larger siblings – Arena Series enclosures integrate into stadium installations with Stadia Series units, providing audio throughout areas not covered by the main system. They also provide extremely effective multi-purpose solutions in any application where high-quality audio needs to be distributed around outdoor areas, such as theme parks, leisure facilities and public spaces.
The Arena Series comprises the 215 CX and the 212 CX models. Both reproduce high-intelligibility full-range audio, the former from a 15-inch LF transducer and a 15-inch mid-low driver incorporating a co-axial 3-inch diaphragm HF compression driver, mounted on Outline's proprietary moulded waveguide. The 212 CX uses the same acoustic design but is fitted with 12-inch LF driver and 12-inch/3-inch co-axial transducer, providing a smaller and lighter option.
Both designs are uniquely configured as 'two-and-a-half-way' systems electrically and acoustically, and both models deliver audio performance that approaches a three-way design with extended low frequency, outstanding sound quality and high SPL. Outline's internal crossover designs also enables both models to be driven by a single channel of amplification, which adds cost-efficiency.
The STSub-215 is the companion subwoofer to the Stadia Series, featuring the same OutSide weatherproofing and extending the range of applications of the Stadia Series further.
More: www.outline.it