Antelope Audio has added the Orion32 HD to its Orion32 family of recording interfaces, featuring full Pro Tools HD and Native DAW compatibility and simultaneous streaming of 64 I/O channels of 192kHz, 24-bit audio via HDX and USB 3.0 with real-time (zero-latency) monitoring.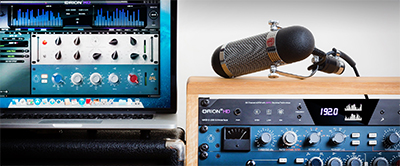 Powered by Antelope Audio's 64-bit AFC (Acoustically Focused Clocking) jitter-free management technology, Orion32 HD is fully compatible with any current DAW. Its HDX and USB 3.0 ports are available simultaneously, so more than one DAW platform can be used and accessed at any given time.
In addition to its HDX and USB 3.0 interfacing, the unit supports Madi, Adat, and SPDIF, alongside 32-input/32-output analogue I/O on 25-pin D-Sub.
Orion32 HD's Mac OS X- and Windows-compatible routing and mixing console desktop app is versatile and intuitive, offering a classic, colour-coded routing matrix and an alternative view with movable and resizable panels to make best use of desktop 'screen estate' in multiscreen set-ups or when working on scoring or other applications.
Orion32 HD exploits Antelope Audio's revolutionary approach to audio processing with its comprehensive suite of hardware-based FPGA (Field Programmable Gate Array) effects providing hardware models of vintage effects around with real-time performance.
With two WC (Word Clock) or Loopsync outputs, the unit can serve as the centrepiece of any recording set-up by using its 10M/10MX clock inputs to connect to Antelope's 10M Rubidium Atomic Clock or 10MX Rubidium Atomic Clock. It also has a mastering-grade monitor output borrowed from Antelope Audio's Pure2 2 Channel AD/DA Convertor & Master Clock to ensure signal integrity in the analogue domain. Orion32 HD also pairs with Antelope's MP32 32 Channel Pure class-A mic preamp and Satori Mastering Grade Monitor Controller.
The Orion32 HD itself is a 'green' design with no need for an internal fan. Housed in a black case taking up a single rack space, it offers 64 channels of I/O to space-conscious home or project studios and professional setups. Now shipping, Orion32 HD is available through Antelope Audio global network of dealers at an RRP of €3,495/US$3,495.
More: http://antelopeaudio.com