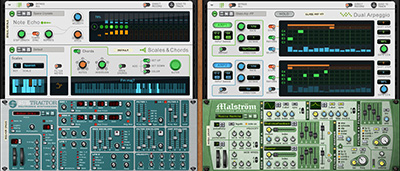 Propellerhead Software Reason 9 music compsition software introduces new devices, sounds and tools, including Player devices, Pitch Edit, workflow enhancements, and the addition of the Pulsar dual-channel LFO soft synth.
Reason 9 introduces three Player devices that instantly transform any Midi input into music. Note Echo creates rhythmic, pitched Midi delays for melodies and drum rolls, while Scales & Chords turns simple melodies into harmonies and chords. Notes can be transposed to a selected scale and used to automatically generate chords, and Dual Arpeggio transforms chords into rhythms.
Reason's new Pitch Edit mode helps fix out-of-tune notes, adjusts vibrato, changes timing. Audio-to-Midi converts vocals to Midi notes. Reason 9 also comes with 1,000 new cutting-edge sounds. The Reason rack is also enhanced with key workflow improvements and darker theme options, for late-night studio sessions.
Reason 9 also now includes the popular Pulsar dual channel LFO – previously available as a Rack Extension via the Propellerhead shop. Use Pulsar to introduce variation to sounds, create entirely new ones using its advanced and flexible modulation, or load up any of the range of presets.
More: www.propellerheads.se