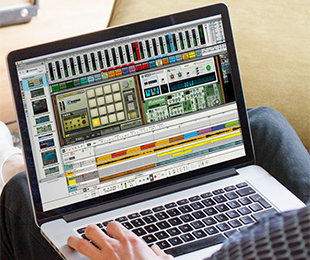 Propellerhead Software has announced the release of Reason 9 music production software.
Reason 9 introduces three Player devices that instantly transform any Midi input into music. Note Echo creates rhythmic, pitched Midi delays for melodies, drum rolls and other effects, while Scales & Chords turns simple melodies into harmonies and chords. Dual Arpeggio transforms chords into intricate rhythms, ranging from classic up-and-down to polyphonic and polyrhythmic.
A new Pitch Edit mode allows correction of vocals, fixing out-of-tune notes, addition of vibrato, change to timing, creation of new melodies from a recording, changes to the dynamics and other processes. Audio to Midi enables conversion of vocals to Midi notes.
Reason 9 also comes with 1,000 new sounds. The Reason rack is also enhanced with key workflow improvements and darker theme options, for late-night studio sessions.
'For Reason 9, we focused on the journey from inspiration to perfection,' says Propellerhead Product Marketing Manager, Mattias Häggström Gerdt. 'The new devices and sounds can spark a million new ideas, while the new tools and highly requested features help you polish those ideas to perfection.'
More: www.propellerheads.se