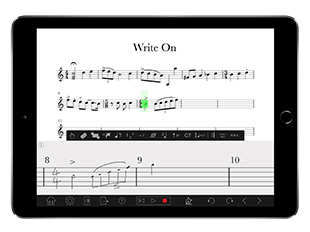 The latest update to PreSonus Notion for iOS adds handwriting recognition for iPad.
Using a finger or stylus, music can be written and then converted to digital notation. Notion for iOS accepts a number of note-entry methods – an onscreen fretboard, Midi keyboard, selecting and touching notes onto the staff, and handwriting – or any combination.
'Composing music with handwriting can be an important part of the creative process,' says PreSonus Software General Manager, Arnd Kaiser. 'We selected MyScript technology because it enables our users to compose music naturally while leveraging the convenience and powerful capabilities of our composition software. It is the best of both worlds for today's musician.'
Notion's handwriting recognition is powered by MyScript, presently the world's most advanced technology for handwriting recognition and digital ink management.