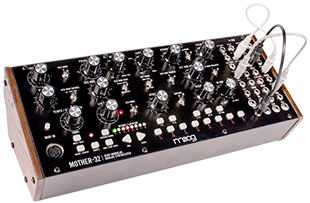 Moog's Mother-32 is a semi-modular, patchable synthesiser, with an onboard Midi, clockable step sequencer.
At the heart of the sound generation is an extremely fat VCO and filter combination, with modulation. The voltage-controlled 32-step sequencer has 64 sequence locations, controlling Moog low-pass and high-pass ladder filters, two voltage-controlled mixers, wide-range LFO with audio-rate modulation capability, Midi input and Midi-to-CV conversion, white noise, a modular patchbay with 32 patch-points for extended synthesis complexity and an assignable CV jack with 16 assignable sources.
Fully standalone, Mother-32 ships with power supply in a desktop case, but can be fitted/powered in a Eurorack modular case. Two- and three-tier rack kits are also available, allowing multiple Mothers to be stacked together.
More: www.moogmusic.com