Music software and hardware developer Arturia has released the BeatStep Pro sequencer.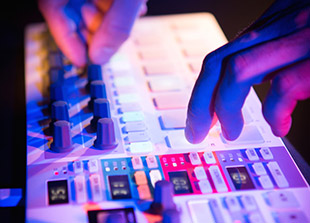 Already tested in the hands of performing artists, the hardware controller is quickly establishing itself as a powerful performance tool: 'I'm bewildered that it's taken manufacturers so long to catch on to the control voltage craze,' says Grammy Award-nominated composer, multi-instrumentalist, producer, singer/songwriter and technologist BT. 'Now that they have, there's a proliferation of exciting new instruments and synths. Bang for buck, you can get a BeatStep Pro and stop looking. This is the most feature-rich, high-end step and gate sequencer in an affordable small-format – and substantial – package that I've ever seen. I want about 20 of these.'
BeatStep Pro comprises two monophonic step sequencers holding up to 64 steps per sequence with note, velocity and gate time settings per step. There is also a 16-track drum sequencer (one track per pad). It has a Midi controller mode, and its knobs, step buttons and velocity and pressure-sensitive pads are all is fully customisable.
It will store16 Projects, each with 16x2 sequences, 16 drum sequences and a controller map. Among its performance controls, it offers Randomizer with Amount and Probability settings, a real-time looper/roller touch strip, and independent swing amount per sequence. Its connectivity covers CV/Gate outputs (1V/octave CV, 10V gates), eight drum gate outputs, clock sync with multiple standards, Midi In and Out (with supplied Midi adaptors). It is USB class compliant ships with Midi Control Center software.
'I'd been looking for long time for a step sequencer that could be integrated into my live set-up that is made up of only vintage machines – Roland's Juno 60, SH-101, TB-303, TR-707, TR-808 and TR-909, and a Sequential Circuits Pro-One,' says French electronic musician Arnaud Rebotini. 'I've been testing various machines, but found everything I was looking for in BeatStep Pro without loosing the freedom of live performance.'