Stewart Audio has released four low-wattage, networked installation amplifiers to provide lower channel count support for local amplification applications as an affordable and reliable alternative to high-wattage amplifiers for high channel counts.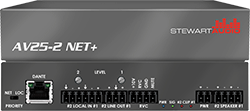 The compact footprint of all four models enables simple installation at endpoints, providing networked amplification to smaller zones – whether for standalone needs in small-to-mid-sized installations, or to provide low-power amplification to smaller, distant zones in larger scale projects.
Dual inputs in two models (AV25-2 Net+ CVA50-1 Net+) support both local and global PA systems, with the option to target and prioritise pages and other audio events across many zones. Dante media networking addresses the requirement of affordable networking solutions for lower channel counts and lower power consumption. Compatibility with other Dante-enabled products is also ensured for a seamless, high-performance networking architecture across installations of any size.
Installations are further simplified by Symetrix Composer 2.0 software, which software natively integrates device discovery and signal routing through its Dante programming environment. This further reduces complexity for the installer, accelerating deployment times and providing end-to-end Dante networking with local amplification.
All four models can be pole mounted or attached to a flat surface near loudspeakers, and are plenum-rated to reduce the installation costs associated with rack-mounted systems.
Models:
· AV25-2 Net+: A 2x25W, 4Ω or 8Ω amplifier with two analogue and two Dante inputs, and remote and local volume control. Automated port switching can override audio feeds depending on which Dante or analogue feed is set to priority.
· AV25-2 Net: A digital-only version of the AV25-2 Net+ with two Dante inputs.
· CVA50-1 Net+: A 50W, 70/100V mono amplifier with one analogue and one Dante input, remote and local volume control, and automated priority port switching to insert local audio feeds over main programs.
· CVA50-1 Net: A digital-only version of the CVA50-1 Net+ with a single Dante input.
'To date, the market has lacked an affordable way to position networked amplifiers at endpoints,' says Stewart Audio Chief Marketing Officer, Brian McCormick. 'Our new family of compact amplifiers create a cost-efficient way to run Cat5 or Cat6 cable to local zones, allowing the benefits of digital audio networking beyond the central infrastructure. These products give our customers a simple and affordable way to address a broad range of low power, low channel count applications without the expense of larger networked amplifiers, or the complexity of architecting custom solutions with bridge devices and analogue amplifiers.'
More: www.stewartaudio.com