The Lab.gruppen D Series is a new flagship four-channel DSP amplifier platform, promising to be the 'most advanced and capable' install-dedicated platform yet launched by the company.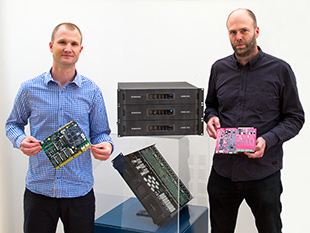 Advanced integration is the aim of the D Series, delivering 'genuinely open interoperability' with a wide range of digital audio and control protocols. The D Series platform is available in two variants – one incorparating Lake processing, the other Biamp Systems's Tesira – each offering particular capabilities and advantages. The Lake variant offers a well-established and proven package of Lake Processing DSP with analogue, AES and a Dual-redundant Dante network solution; supported by the development of new custom software to provide extensive integration potential with most key systems manufacturers. With the Tesira variant of D Series, comes a potent new collaboration between Lab.gruppen and Biamp Systems. This has resulted in dedicated models equipped with Tesira DSP, with AVB audio and control, to offer unheralded amplifier and DSP platform integration, designed to ensure seamless interoperability between respective systems.
Available in three power configurations (8kW, 1.2kW and 20kW total power output), each offered in either variant, D Series also marks the debut of Lab.gruppen's Rational Power Management (RPM) technology. Unlike amplifiers where 'flexibility' involves compromise (reducing channel count or reducing the total power), RPM allows flexible power allocation across all channels to ensure the most efficient and rational use of total amplifier inventory.
At the heart of RPM is the ability of each model to deliver up to 5kW output on any single channel, even on the lower power models, leaving the remaining available power to be allocated freely to the other channels. This enables more optimised system design, with each channel being tailored to the precise requirement of the load, rationalising the system to achieve most efficient use of the total amplifier inventory.
The D Series also endorses Lab.gruppen's position in green amplifier technology, having evolved from the power supply technology found in the PLM 20000Q, delivering best-in-class Power Factor Correction and low peak mains current draw to power output ratio. Augmenting those green credentials is a new software suite called CAFE (Configuring Amplifiers For the Environment). In addition to providing full system surveillance capabilities as well as RPM configuration, CAFE also includes an innovative design aid in the form of ESP (Equipment Specification Predictor) that provides an optimized recommendation for specifying D Series into the project, including model and number of amps, heat generated, channel distribution and current draw. All coming together to enable more accurate mains management, avoiding over-specification of UPS (where required, such as in mission-critical PA/VA applications) and installed cooling systems.
The D Series will be available for shipping mid-summer 2014.
More: www.labgruppen.com