Designed for use with the Q-Sys Network Audio Platform, QSC Audio Products has released the CXD-Q Network Amplifier line, offering the company's Flexible Amplifier Summing Technology (FAST).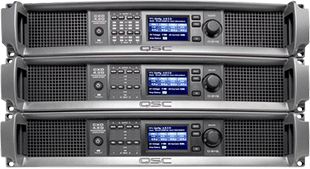 'They operate like other Q-Sys peripherals using the same standard Layer 3 networking technology for audio streaming, control, and monitoring,' says Dale Sandberg, QSC Senior Product Manager. 'As amplifiers, they feature our new Flexible Amplifier Summing Technology that enables the amp channels to be combined and deployed in a wide-range of installed sound applications. This allows integrators the ability and flexibility to design and install systems in a whole new way.'
Redundant rear-panel Ethernet jacks on the amplifiers allow them to be connected using standard Ethernet cable. Like other Q-Sys peripherals, adding CXD-Q amplifiers to a new or existing Q-Sys design is done via the Q-Sys Designer Schematic Page.
Housed in a 2U-high rackmount, CXD-Q Network Amplifiers feature new QSC proprietary class-D power devices. The CXD-Q lineup includes the CXD4.2Q (400W/channel @ 4Ω continuous, 500W/channel burst), the CXD4.3Q (625W/channel @ 4Ω continuous, 1.6kW/channel burst) and the CXD4.5Q (1250W/channel @ 4Ω continuous, 2kW/channel burst) with the CXD4.3Q and CXD4.5Q able to direct drive 70V and 100V systems. FAST provides optimal power allocation by distributing the total amplifier power across one, two, three or all four outputs, enabling amp channels to be combined for maximum current or voltage output. The largest models are capable of up to 5kW continuous and peaks of up to 8kW.
The rear panels feature four balanced Euroblock mic/line input connectors that are onramps into the Q-Sys system, and four Euroblock touch-proof loudspeaker connectors enabling integrators to terminate wiring before connecting to the amplifier, while GPIO connectors offer additional functionality. In addition to their efficiency, the CXD-Q amplifiers' power saving modes further ensure that energy costs will be kept to a minimum over the life of the installation.
The CXD-Q series of network amplifiers will be available in April 2014.
More:
www.qsc.com