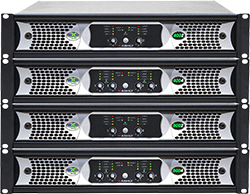 Ashly's nX family of two- and four-channel power amplifiers has been expanded with the addition of 12 medium-output amplifiers to complement the existing high-output 3kW and 1.5kW nX models.
The nX8004 has four channels rated at 800W/channel across all programmable outputs. The nX8002 is the two-channel version. The nX4004 offers four channels at 400W/channel, while the nX4002 is the two-channel model. All nX Series amplifiers feature Ashly's programmable outputs on each individual channel using rear panel DIP switches to select Low-Z (down to 2Ω), or High-Z, (70V or 100V) constant-voltage outputs.
Ashly offers three nX amplifier feature sets. The nX Series is the base-level amplifier with Ashly's Energy Management System (Ashly EMS), a defeatable sleep mode that draws <1W of current when engaged. The nX Series also has an optional security lockout feature for the front panel controls. The nXe Series Net-Work-Able amplifiers feature an Ethernet connection providing the integrator with remote control and diagnostics, a programmable sleep or stand-by mode, aux outputs and an internal real-time clock with event scheduler. The nXp Series adds the Protea DSP Processor with 32-bit Sharc processors and full Protea DSP that includes Precision Impedance Monitoring on each channel output.
Network audio options include factory installed Dante and CobraNet cards. Ashly also offers optional AES3 inputs with pass-through.
'Expanding the nX Amplifier line with two and four-channel options at medium power outputs allows audio system designers to deliver an Ashly-centric sound system to their clients that features high-quality American-made amps,' says Ashly VP of Sales, John Sexton.
NX Power Amplifiers are built in the company's New York factory and covered by Ashly's industry-leading Five-Year Warranty. The new models ship to US Dealers in December 2013.